Rising gas prices hit drivers nationwide
Consumers get squeezed as pump prices rise for 50 days in a row. Prices now average at least $2.50 a gallon in 49 states.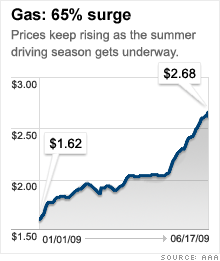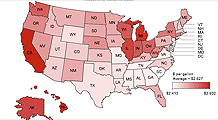 Prices at the pump can vary widely among states due to a number of factors.
More
Fuel-Efficient Cars

Find Your Next Car
NEW YORK (CNNMoney.com) -- Gas prices have risen for 50 days in a row and the pain at the pump is taking a toll on household budgets across the nation.
Nationwide, gas prices now average $2.679, motorist group AAA said Wednesday. Prices have risen every day since April 29, when the national average stood at $2.05 a gallon.
Drivers in every U.S. state, with the exception of South Carolina, now pay an average of at least $2.50 a gallon. In the Palmetto State, gas averages $2.49 a gallon.
The runup in gas prices comes at a time when drivers are already struggling with record high unemployment and an abysmal housing market.
"The rise is gas prices is putting a large dent into our household budget at a time when we are already feeling some pain," said Michael Clark, a technologies business analyst in Phoenix.
Clark, who said prices at his local station have gone up more than 90 cents since May, was recently asked by his employer to accept a 15% pay cut.
"I do not understand how the stock market can be up and the price of oil rising when everybody I know is hurting so badly," he said.
Many economists worry that consumers like Clark will be forced to cut back on spending on other items to make up for higher pump prices.
That could pose a serious threat to the already battered economy, since consumer spending makes up the bulk of U.S. economic activity.
The spike in gas prices comes on the back of a surge in the price of crude oil, which is the main ingredient in retail gasoline.
The price of oil has more than doubled since late December, climbing from a low of $33.87 a barrel to more than $70 recently. Meanwhile, gas prices have followed a similar trajectory, jumping more than $1 a gallon over the same time period.
Oil prices have been driven higher as investors bet the world's once-robust demand for energy is poised for a rebound. However, many analysts say the recent runup is overdone, and that oil prices at current levels are not justified based on sound economic fundamentals.
Has the rebound in gas prices caused you financial hardship? Are you spending less on other items to help with the cost of driving? Have you postponed summer driving plans? We want to hear your experiences. E-mail your story to realstories@cnnmoney.com and you could be part of an upcoming article. For the CNNMoney.com Comment Policy, click here.

Features

These Fortune 100 employers have at least 350 openings each. What are they looking for in a new hire? More

It would be the world's second-biggest economy. See how big companies' sales stack up against GDP over the past decade. More