GM faces $250M past due notice
The bankrupt automaker can pay most parts suppliers. But ad agencies and others not on the 'critical vendor' list shouldn't expect GM checks in the mail.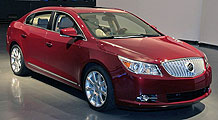 GM is launching a slate of new products. Can they give a lift to the auto giant as it enters a new era?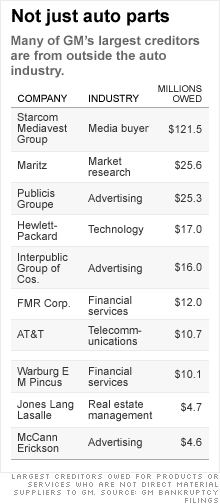 NEW YORK (CNNMoney.com) -- General Motors owes hundreds of millions of dollars to major suppliers who have never made an auto part, rubber tire or sheet of steel -- and they're not likely to get paid anytime soon.
GM is on the hook for more than $100 million for advertising it purchased before filing for bankruptcy earlier this month. The list of utilities who are GM creditors takes up 80 pages in its bankruptcy filing.
Among the company's top 50 creditors, 10 are outside the auto or transportation industries. GM owes these firms just under $250 million. But they may have to take a back seat in the bankruptcy process.
While virtually all of the auto parts makers who work with GM are being declared "critical vendors," which allows them to receive their next payments by July 2, GM's other suppliers are not guaranteed payments anytime soon. The company cannot make payments to them without approval from the bankruptcy court.
"This is affecting many many different industries, far more than people realize," said Heidi Sorvino, head of the bankruptcy practice in the New York office of law firm Smith, Gambrell & Russell, who is representing some of GM's suppliers.
GM's transportation suppliers, such as railroads CSX (CSX, Fortune 500) and Union Pacific (UNP, Fortune 500) also have critical vendor status. So do a handful of its major suppliers from outside the auto or transport industries, such as technology giant Hewlett Packard (HPQ, Fortune 500) and telecommunications provider AT&T (T, Fortune 500). (See correction below.)
HP is owed $17 million, just a bit less than the money it owes those two railroads combined, while AT&T is owed more than is due to U.S. Steel (X, Fortune 500) or any other steelmaker.
But even some of the vendors not granted critical vendor status will have their pre-bankruptcy bills paid, although not as fast at those with critical vendor status.
The lucky vendors are those that will have a continued business relationship with GM after it emerges from bankruptcy. They are likely to eventually get paid for their services once they renew their contracts. But they may have to wait months before doing so.
Media buying firm Starcom Mediavest Group is GM's largest vendor creditor. It is owed $121 million for ad time and space it purchased on GM's behalf. That's about $11 million more than what GM owes Delphi, its largest auto parts supplier.
Several of these big vendor creditors outside the auto industry had no comment about when they expected to be paid by GM.
Of course, none of these major companies are likely to face a cash crunch if GM doesn't pay them in a timely fashion. But for many other vendors, delayed payments could be a matter of corporate life and death.
"If you're a small supplier, and you live hand to mouth, you need that check," said Sorvino. "You have your own operating expenses, payroll and leases."
GM does not break down in its bankruptcy filing how much it owes to critical versus non-critical vendors. But the company owed $18 billion to vendors worldwide as of March 31. That means a lot of suppliers probably won't get paid next month.
Sorvino said she expects widespread bankruptcies of smaller GM vendors. That could lead to many workers losing their jobs who didn't even realize they were depending on GM for their livelihood.
Worse off are suppliers who do not have a continuing contract relationship with GM, but are currently owed money. Even if these firms do work with GM again in the future, their previous bills make them unsecured creditors. So they will be lucky to get pennies on the dollar on what's owed to them -- and probably not for at least another year.
GM spokesman Dan Flores said the company has done what it can to help vendors, particularly auto parts suppliers who depend on GM to stay in business.
"Unfortunately through this process there are suppliers that do not fall into that [critical vendor] category," he said. "However, we are continuing to work with them as much as we can."
Correction: This story originally reported that neither HP nor AT&T had been granted critical vendor status in the GM bankruptcy case. CNNMoney.com regrets the error.

Features

These Fortune 100 employers have at least 350 openings each. What are they looking for in a new hire? More

It would be the world's second-biggest economy. See how big companies' sales stack up against GDP over the past decade. More