Gas prices end 54-day streak
The pain at the pump eases ever so slightly as gas prices fall three-tenths of a cent.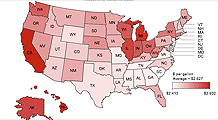 Prices at the pump can vary widely among states due to a number of factors.
More
Fuel-Efficient Cars

Find Your Next Car
NEW YORK (CNNMoney.com) -- The price of a gallon of gas dipped Monday, snapping a 54-day run-up.
Nationwide, the average price for a gallon of regular unleaded gasoline edged down to $2.69, shaving just three-tenths of a cent from the previous day's average of $2.693, according to motorist group AAA.
The single day turnaround in prices does not promise a trend, but after a relentless climb in recent weeks, any pull back is welcome.
Prices have risen since the end of April, when the national average was $2.05 a gallon.
Two states still have gasoline above $3 a gallon. In California, the price of a gallon of gas averaged $3.027; in Hawaii, the average was $3.057.
"Father's Day might have represented the highest price you will pay for the next few months or so," said Tom Kloza, chief oil analyst at the Oil Price Information Service, which provides the information for AAA.
Kloza expects to see gas prices decrease between 5 to 15 cents in the upcoming weeks, as prices historically start deckling around July 4.
Retail gas prices follow wholesale gas prices and wholesale gas prices move off of crude oil, which is the main ingredient in retail gasoline. Wholesale gas prices fell between 10 and 20 cents last week, and that decline is working its way into the retail market.
Crude oil has more than doubled in price since mid-December, when it reached as low as $33.87 a barrel. At 9:30 a.m. ET on Monday, oil was trading under $68 a barrel.
But Kloza said the spike from December lows may have been a bit over-exuberant. Investors "probably got too enthusiastic" about the possibility of economic recovery and sent oil prices up too quickly.
He added that the fact that the tension in Iran did not send oil prices soaring "tells you that the market was mature."
Oil prices and gas prices need to recalibrate in the face of the reality of a long, slow recovery. A surge in gas prices threatens to derail any economic recovery. With consumers having to pour more dollars into their gas tank, the they will have to cut back in other areas.
Furthermore, consumers are already on edge with unemployment rates continuing to inch up. Friday, the government reported that jobless rates increased in forty-eight states and the District of Columbia.
Has the rebound in gas prices caused you financial hardship? Are you spending less on other items to help with the cost of driving? Have you postponed summer driving plans? We want to hear your experiences. E-mail your story to realstories@cnnmoney.com and you could be part of an upcoming article. For the CNNMoney.com Comment Policy, click here.

Features

These Fortune 100 employers have at least 350 openings each. What are they looking for in a new hire? More

It would be the world's second-biggest economy. See how big companies' sales stack up against GDP over the past decade. More