Economic fears slam stocks
World Bank cuts global growth forecast, triggering a big selloff. Dow falls 200 points, S&P 500 and Nasdaq both lose more than 3%.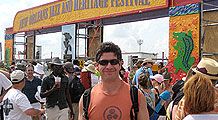 From a half-price deck to spending time with the kids to traveling around the country in pursuit of the best party, these people are making the most of the downturn.
301 Moved Permanently
---
nginx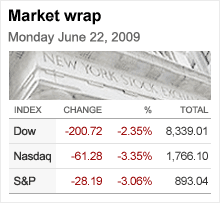 NEW YORK (CNNMoney.com) -- Stocks sank Monday, ending at three-week lows, as the World Bank's weak outlook on global growth and a selloff in commodity prices sent investors heading for the exits.
Oil and gold prices slumped and the dollar was mixed. Treasury prices rallied as investors sought safety, sending the corresponding yields lower.
The Dow Jones industrial average (INDU) fell 200 points, or 2.4%. The S&P 500 (SPX) fell 28 points, or 3%, and the Nasdaq (COMP) fell 61 points, or 3.4%.
The World Bank cut its 2009 forecast, predicting that global growth will shrink by 2.9% versus its earlier forecast for a 1.7% contraction. Global trade is expected to plummet 9.7% this year, it said. Developing countries have been especially hard, with the exception of booming China and India.
The forecast sent European markets tumbling as well, while Asian markets ended higher.
"The World Bank news today was pretty major, but it's not just today's news that is causing the selling," said Gary Webb, CEO at Webb Financial Group.
He said that stocks have been falling for several sessions now as investor sentiment has gotten more negative.
"If we don't see something good here in the next few days to cause a rebound, then I think we'll see a bigger pullback," he said. "Even one positive report would help. It wouldn't send stocks flying but it would help limit the decline."
Stocks were mixed Friday at the end of the first down week in a month on Wall Street. A three-month rally propelled the S&P 500 by as much as 40% off of 12-year lows. But the advance has lost steam lately as investors have worried that the recession may stretch on longer than anticipated.
"Every time there's a blip economically, the market sells off," said Ron Kiddoo, chief investment officer at Cozad Asset Management.
"But I also think we were ready for a pullback," he said. "You don't get 30 or 40 percent rallies without a pullback."
The S&P 500 has now lost 6.6% off the highs from 2 weeks ago. Kiddoo said he thinks the broad index could end up pulling back a total of 10% to 15% before the selloff runs its course.
On the move: Stock declines were broad based, with 27 out of 30 Dow issues falling, led by Chevron (CVX, Fortune 500) and Exxon Mobil (XOM, Fortune 500), which fell in tune with the price of oil.
Other big Dow losers included Boeing (BA, Fortune 500), IBM (IBM, Fortune 500), Hewlett-Packard (HPQ, Fortune 500), 3M (MMM, Fortune 500) and United Technologies (UTX, Fortune 500).
Apple (AAPL, Fortune 500) said it sold more than 1 million copies of its new iPhone 3GS in the first three days it was on sale, in what was being described as the most successful launch of a smartphone ever. Apple shares fell modestly.
A number of financial stocks plunged, including American Express (AXP, Fortune 500), Bank of America (BAC, Fortune 500) and JPMorgan Chase (JPM, Fortune 500).
The KBW Bank sector index fell 6.7%.
Walgreen shares slipped after it posted a bigger-than-expected drop in quarterly profits.
Market breadth was negative. On the New York Stock Exchange, losers beat winners by nearly eight to one on volume of 1.40 billion shares. On the Nasdaq, decliners topped advancers by more than five to one on volume of 2.36 billion shares.
Economy: No economic reports were due Monday, with readings on housing, consumer spending and the labor market due later in the week.
The Federal Reserve Board meets Tuesday and Wednesday to discuss interest-rate policy with an announcement expected Wednesday afternoon. The central bank is expected to hold interest rates steady at historic lows near zero. But as usual, what the bankers say in the statement about the economy will be key.
Bonds: Treasury prices rallied, lowering the yield on the benchmark 10-year note to 3.70% from 3.83% Friday. Treasury prices and yields move in opposite directions.
Other markets: U.S. light crude oil for July delivery fell to a two-week low, tumbling $2.62, or 3.8%, to settle at $66.93 a barrel on the New York Mercantile Exchange. The July contract expired Monday. August becomes the active trading month Tuesday.
COMEX gold for August delivery fell $15.20 to settle at $921 an ounce.
In currency trading, the dollar rose versus the euro and fell against the yen.
Gas prices retreated for the first time in 55 days, falling three-tenths of a percent to $2.69 per gallon, according to AAA. Prices had risen 32% since April 29.

Features

These Fortune 100 employers have at least 350 openings each. What are they looking for in a new hire? More

It would be the world's second-biggest economy. See how big companies' sales stack up against GDP over the past decade. More