Obama refis: Slow out of the gate
Bankers predict fewer people will refinance in '09 because administration program has accomplished little for hard-pressed borrowers so far.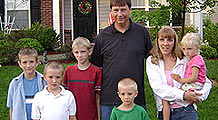 Homeowners in trouble are having mixed results applying for President Obama's foreclosure prevention plan. CNNMoney.com readers tell us their tribulations and triumphs trying to get their loans modified or refinanced.
NEW YORK (CNNMONEY.COM) -- The Mortgage Bankers Association has slashed its estimate of the number of mortgages its members will issue in 2009. One reason: Few refinancings are being done under President Obama's ballyhooed Home Affordable Refinance Program.
The MBA is forecasting mortgage originations of $2.03 trillion for the year, a drop of more than $700 billion from its March forecast. More than $600 billion of the drop is due to fewer refinancings than originally predicted.
Only 13,000 Obama refinancings have been completed during the first three months after the program's launch, the MBA said Monday. Policy makers originally projected that 4 million to 5 million mortgage borrowers would take advantage of the program over the next year.
The Obama plan targets borrowers with loans guaranteed or owned by mortgage giants Fannie Mae and Freddie Mac, and it enables them to qualify for refinancing into a lower rate if their balances are too high relative to their home values.
But the MBA is skeptical that the number of refinancings under the Obama plan will ever hit projections.
"While the number of loans completed under this program is likely to increase," said Jay Brinkmann, chief economist for the MBA in a release announcing the lowering of origination estimates, "it is difficult to craft a scenario under which origination volumes would come anywhere close to reaching the numbers originally envisioned for the program, particularly under our higher rate environment."
One reason why the Obama plan hasn't taken off yet is that lenders/servicers are still gearing up to handle it, according to John Courson, president of the MBA. It's not as simple as a regular refi, he said.
Plus, Fannie and Freddie have different procedures and guidelines for the loans, and servicers have had to learn both.
Freddie loans, in particular, were problematic, Courson said. The company decreed that only the actual servicer of a particular loan could issue a refi. He said Fannie allowed any approved servicer to do so.
Applications flood lenders
Courson also noted that servicers were flooded with requests for refinancings from their regular customers because interest rates had dropped so low. A 30-year, fixed-rate loan averaged well below 5%, and as low as 4.78%, from mid-March through the end of May, according to Freddie Mac's weekly survey.
The lenders were more likely to process applications from regular clients first, before moving on to Obama plan borrowers, according to Courson.
"If you're a lender and the refi volume is coming in, you do the easiest ones first," he said. "If I have a 70% [loan to value], a real clean deal, I'm going to do that one first. The others may get pushed to the side."
That was especially true for Freddie refis. The idea was that the loans did not have to be re-underwritten, because they remained on the same lenders' books, and that reduced a borrower's fees.
But since the loan servicer didn't have to worry about competition from other lenders, there was no urgency to refinance, delaying some Freddie refis. Freddie has changed its policy and now allows any approved lender to refinance its loans under the Obama program
Courson does believe that Obama refis will eventually pick up. Ironically, the increased interest rates of recent weeks have caused normal refi requests to drop, giving lenders more incentive to go after the refis, which are a source of profit that they're not fully exploiting.
"Other refi opportunities are drying up," said Courson, "and lenders could turn to these loans."
If interest rates return to sub 5% territory, that could lure back more regular refi customers and borrowers under the Obama plan could again be given short shrift, he said. But Courson does not think rates will go that will happen.
"My prediction is that the volume for this program will pick up," he said. He demurred, however, from forecasting that Obama plan volume will ever reach the 4 million to 5 million originally estimated.
Correction: In an earlier version of this story, it was not pointed out that Freddie Mac has changed its policy and now allows any approved lender to issue refinancings under the Obama program.

Features

These Fortune 100 employers have at least 350 openings each. What are they looking for in a new hire? More

It would be the world's second-biggest economy. See how big companies' sales stack up against GDP over the past decade. More