Analytics 101: Valuable insights from cheap tools
Savvy entrepreneurs are turning to inexpensive data-mining software to refine their Web sites and boost profits.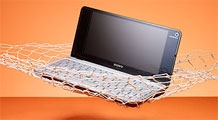 Netbooks are models of portability. But can you stare at those little screens all day? Our reviewer put three to the test.
(CNNMoney.com) -- Louis Sirico had no reason to suspect that he was flooding his customers' email inboxes with content they "didn't really care" about. Sirico is the founder of IndustryWizards.com, a San Jose, Calif.-based professional online network that connects industry experts with one another and provides its 50,000 members with high tech-related content, product reviews, and research via blogs, discussion forums and monthly e-newsletters.
But Sirico was in for a rude awakening when, using a Web analytics tool from Lyris, he began tracking whether recipients were clicking to read the articles contained in each month's newsletter or simply hitting delete. "We thought we were giving members what they wanted," he admits. "But [after testing], we realized, 'Wow, we need to lay out our newsletters differently.'"
Using the information he gleaned from Lyris HQ Web Analytics, Sirico has "completely redesigned" the 100,000 newsletters a month IndustryWizards.com emails to its members. Changes include adding more product reviews, buyers' checklists and additional healthcare content. The result: the online community's newsletter clickthrough rates have almost doubled, and the average amount of time visitors spend reading the site's reviews and benchmark reports has skyrocketed from 4 minutes and 31 seconds per session to 9 minutes and 17 seconds.
Welcome to the modern-day world of Web analytics. Antiquated measuring units such as page views and unique visitors have gone the way of the abacus as vendors unleash Web analytics tools that can slice and dice data thinner than a Ginsu knife. Google, Lyris, Piwik, Omniture -- they all offer analytics tools capable of number-crunching feats, from pinpointing when visitors abandon their shopping carts and identifying top referral sites to highlighting keywords that drive more traffic.
"The value of Web analytics tools isn't that they can collect data," says Howard Kiewe, a senior research analyst with Info-Tech Research Group in Ontario, Canada. "It's what they do with the data once it's collected -- how it's packaged, grouped together and presented in a way that users can understand without a lot of math."
That's good news to small business owners, many of whom pour thousands of dollars into Web site development, only to wonder if the site delivers any real business value. Armed with data culled by Web analytics tools, however, business owners not only gain a deeper understanding of their visitors and how they behave, but can better target newsletters, tweak online content, customize marketing campaigns, accelerate sales cycles, and even boost transaction sizes.
Today's Web analytics tools may share a common goal of making heads or tails of a site's online traffic, but not all solutions are created equal. Here's a quick primer on some of the available solutions and how they differ.
Google Analytics: Free and simple to set up, Google Analytics "is a good place for most small businesses to start and get their feet wet," recommends Kiewe. The software offers basic analysis and reporting benefits and is good for collecting standard metrics such as page views, unique visitors, time spent on the site, and the percentage of visitors who abandon the site rather than continue on to other pages.
What's more, Google Analytics runs on Google's own servers, so that small businesses need not hire the in-house manpower needed to implement and oversee an analytics solution. If you're currently running nothing, deploying Google Analytics is a good first step.
Lyris: Whereas Google Analytics "gives you more of a high-level view," Kiewe says that Lyris HQ Web Analytics helps small business owners "really track right down to the details."
At a price tag of $2,500 per year (scaling higher for mid-sized companies), the software package digs deep to reveal detailed statistics, such as a visitor's entry and exit pages, as well as users' click paths. Color-coded reports highlighting the behaviour of different groups of visitors let users compare visitor segments. And unusual site activity can be detected by comparing differences in key performance indicators. For example, if there's a sudden flurry of online traffic, the software can help you zoom in on what particular keywords or banner ads may be driving much more traffic this week than last week.
Piwik: For tech-savvy small businesses with highly skilled IT teams, Piwik is an ideal option. One of only a handful of open source analytics tools, Piwik is a free software program that users can download and install on their own servers in mere minutes.
By downloading the source code, users can completely customize the solution and tightly integrate analytics into all aspects of their business. Intended as an open-source alternative to Google Analytics, Piwik offers basic functionality, such as the ability to identify the search engines and keywords visitors use, the language they speak, and their favorite pages.
Omniture: According to Kiewe, Omniture's SiteCatalyst 14 offers a hard-to-rival "level of granularity" that tracks just about everything from video stream performance and e-mail marketing campaigns to customer reviews and social networking effectiveness. Alas, superior granularity comes at a steep price: Omniture starts at around $18,000 a year, according to an Info-Tech Research report. For that kind of coin, a company better consider Web site data-crunching a business imperative.
Finding out why visitors are abandoning their online shopping carts or calculating the amount of time spent reading a newsletter may be tempting for some, but Kiewe warns that small business owners should ask 'Am I going to use all that data?' before signing on the dotted line. After all, without the in-house personnel with the time required to sift and sort through all that information, you might be better off with an abacus.

To write a note to the editor about this article,
click here
.