A matchmaking jukebox
A startup helps lovelorn singles by moving the online dating platform into bars.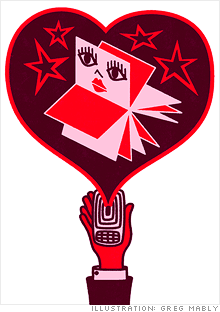 Photos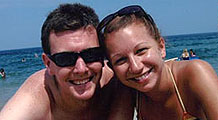 (FSB Magazine) -- When Christian Wiklund lauched Skout in 2008, he had no idea he was getting into the dating business. With $1 million in seed money, his San Francisco - based company developed a free social network that allowed anyone with a GPS-ready cell phone to view photos uploaded by nearby Skout members, along with their geographic distance. Their exact location was hidden, but members could send one another messages, become "friends" and arrange a meeting.
Singles flocked to the service. Wiklund, 28, adapted his marketing plan on the fly, changing "friends" lists to "matches" lists. Skout became a dating database that more than 2,000 people browse every day (out of a total of 500,000 members). The startup's 12 employees then hatched a scheme to put that database where singles already congregate: in bars. "We want to anchor the Skout experience in physical places all around the country," Wiklund says.
The result: Skout OUT, a service that will be in 10,000 bars across the U.S. later this year. Those bars have already bought and installed 42-inch plasma touch-screen computers developed and sold by TouchTunes in New York City. Currently TouchTunes operates the devices as jukeboxes, but it has licensed the rights to the Skout OUT service and will upload it to all the machines by December.
The touchscreens will show pictures of Skout users within a mile radius who have agreed to be listed on Skout OUT. You can send messages to prospective hookups, as with the regular Skout service. But you can also insert your credit card, or feed the jukebox a few dollars, and send a virtual "drink" to your target's phone, or the name of the song the jukebox is about to play -- dedicated to the object of your affection. In the next year or so, Wiklund hopes to set up a system that will send a code to phones for coupons that can be redeemed for real drinks at the bar.
The tiny startup faces competition from big players such as Match.com, which launched a mobile application in March. But they're fighting over an expanding market. According to Juniper Research, a telecom and media research firm, the global mobile dating and chat room market is expected to hit $1.4 billion (mostly from ads and subscription fees) by 2013, up from $500 million in 2008.
Analysts are impressed with Skout's multiple revenue streams. On top of its licensing fee, the company will share jukebox proceeds with TouchTunes. And this summer Skout plans to start charging users of its iPhone application $10 a month to send messages (they will still be able to browse listings for free).
Web 2.0 startups "like to talk about getting millions of people to use their service," says Vikrant Gandhi, a wireless analyst at research firm Frost & Sullivan. "But the question is how you monetize that. Skout OUT is a good way to make money in the real world."
The service is bound to raise safety concerns. Users do have to opt in and affirm that they are at least 18 years old, but even Wiklund admits he has no way of verifying that. Still, Skout makes it easy for users to block unwanted virtual advances, and the site says it is spending more and more time on policing its community. "Every day we have to ban people," Wiklund says. "You have scumbags in society, and you will have scumbags online as well. You can't let them do whatever they want. This has to be a safe experience."

To write a note to the editor about this article,
click here
.