Stocks trim gains after Fed
Central bank holds rates steady, says economy is stabilizing. Wall Street rally loses steam, with Dow ending at a one-month low.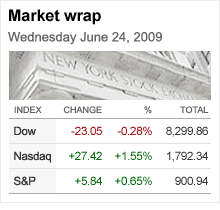 301 Moved Permanently
---
nginx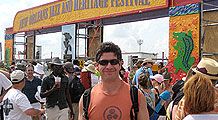 From a half-price deck to spending time with the kids to traveling around the country in pursuit of the best party, these people are making the most of the downturn.
NEW YORK (CNNMoney.com) -- The Nasdaq trimmed gains Wednesday and the Dow dipped after the Federal Reserve kept a key short-term interest rate near zero, but said nothing about expanding a program meant to keep long-term rates from spiking.
The Dow Jones industrial average (INDU) lost 23 points, or 0.3%, according to early tallies and ended at a one-month low. The S&P 500 (SPX) added nearly 6 points, or 0.7%, and the Nasdaq (COMP) gained 27 points, or 1.6%.
Stocks rose from the opening bell through early afternoon on a better-than-expected reading on durable goods orders and Oracle's quarterly results and forecast. But the advance lost steam after the Fed announcement.
The central bank opted to hold the fed funds rate, a key short-term bank lending rate, near zero, and said in its statement that "the pace of economic contraction is slowing."
While these developments were largely in line with estimates, some Fed watchers were looking for the bank to say something about its $300 billion debt buyback program, enacted to keep a lid on spiking bond yields. However, the bankers did not announce any changes to that program.
"Some people may have been expecting an enlargement of the Treasury purchases," said Steven Goldman, market strategist at Weeden & Co. He said that was demonstrated by the subsequent selloff in Treasury prices and rise in yields -- and rally in the dollar versus other currencies.
Stock have struggled over the last week on concerns about the economy and concerns that higher bond yields - which are tied to mortgage rates - will undermine any stabilization in the housing market.
Beyond the statement, stocks are moving into a period of less resilience than more recently, when a 5% decline would draw more buyers in, pushing the market to new recovery highs.
But after a 40% rally in 14 weeks, "stocks are in a nimble environment and a consolidation phase which may last weeks," Goldman said.
The three-month rally was fueled by bets the recession is starting to wind down. But stocks have retreated over the last week on worries that the advance got ahead of any recovery.
Wednesday's gains were sparked by a stronger-than-expected durable goods orders report and Oracle's quarterly results and outlook. Those factors could continue to benefit stocks over the next few days.
Stocks could also benefit from closing above a key trading level that market pros have been looking at, the 200-day moving average, said Dave Rovelli, managing director of U.S. equity trading at Canaccord Adams.
Thursday brings the release of the weekly jobless claims report and the revised reading on first-quarter GDP growth. Also Thursday, Fed Chairman Ben Bernanke will testify before a House of Representatives Committee regarding the Bank of America purchase of Merrill Lynch.
Economy: Durable goods orders rose 1.8% in May, the government reported Wednesday morning. Economists thought orders would fall 0.9%, according to Briefing.com forecasts. Orders rose a revised 1.8% in April as well.
May new home sales fell to a 342,000 annualized unit rate from 344,000 in April. Economists thought sales would rise to a 360,000 rate.
Oracle: Oracle (ORCL, Fortune 500) reported weaker quarterly sales and earnings that topped estimates, profit margins at a record high and software sales that fell less than expected. The business software maker also forecast first-quarter sales and earnings that are above analysts' forecasts.
Shares jumped 7%.
Oracle is the No. 2 U.S. software company and has connections to many other companies, so its positive results are important for the broader tech sector, Rovelli said.
A variety of other big technology companies gained too, including Dow components Intel (INTC, Fortune 500), Yahoo (YHOO, Fortune 500), Dell (DELL, Fortune 500) and Microsoft (MSFT, Fortune 500).
Other movers: The Dow's biggest losers were oil stocks Chevron (CVX, Fortune 500) and Exxon Mobil (XOM, Fortune 500), which slumped along with the prices of oil. Also, Boeing and United Technologies slipped for a second session in a row. On Tuesday, Boeing said it had again delayed the initial test flight of its new 787 jet as it needs to reinforce part of the aircraft.
In other company news, Citigroup (C, Fortune 500) said it was boosting the base pay of its employees, but keeping total compensation unchanged, as it looks for ways to "retain talent" despite bonus limits imposed by Congress. Citi has received two government bailouts and one of the terms of the help is a limit on bonuses.
Market breadth was negative. On the New York Stock Exchange, winners beat losers seven to three on volume of 1.10 billion shares. On the Nasdaq, advancers beat decliners five to four on volume of 2.18 billion shares.
Bonds: Treasury prices tumbled, raising the yield on the benchmark 10-year note to 3.68% from 3.63%. Treasury prices and yields move in opposite directions.
Other markets: In global trade, most Asian and European markets ended higher.
U.S. light crude oil for August delivery fell 57 cents to $68.67 a barrel on the New York Mercantile Exchange.
COMEX gold for August delivery rose $10.10 to $934.40 an ounce.
In currency trading, the dollar gained versus the euro and the yen.
Have you exhausted your unemployment benefits? We want to hear about your experiences. E-mail your story to realstories@cnnmoney.com and you could be part of an upcoming article. For the CNNMoney.com Comment Policy, click here.

Features

These Fortune 100 employers have at least 350 openings each. What are they looking for in a new hire? More

It would be the world's second-biggest economy. See how big companies' sales stack up against GDP over the past decade. More