Fed sees signs of hope
Central bank keeps rates near zero and says economy still weak. But Fed also said there is evidence of the economy stabilizing.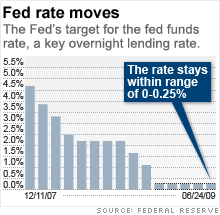 NEW YORK (CNNMoney.com) -- The Federal Reserve kept its key interest rate near zero Wednesday, and said in a statement that although the U.S. economy remains weak, there are signs of a recovery.
The central bank said that the pace of the nation's economic decline is slowing and that household spending is showing signs of stabilizing.
It also said conditions in financial markets have generally improved in recent months, and that while businesses continue to cut back staff and spending, their inventories are coming into line with demand.
The Fed noted recent commodity price increases but said it saw little threat of inflation in the near term. The Fed also dropped the language it used in its last statement that indicated concerns about falling prices hurting economic growth.
Even though this was the first official statement from Fed policymakers to hint at signs of stabilization in the economy, Keith Hembre, chief economist at First American Funds, said Chairman Ben Bernanke and other Fed members have been suggesting signs of improvement in individual speeches in recent months.
"They'd be out of step with reality and the data flow if they didn't make that statement," Hembre said.
The Fed has now kept its federal funds rate, an overnight lending rate that impacts rates on various consumer and business loans, in a range of 0% to 0.25% since December. And despite suggesting that there are signs of progress, the Fed reiterated that "economic conditions are likely to warrant exceptionally low levels of the federal funds rate for an extended period."
The Fed has done much more than cut short-term rates to pump money into the economy, however.
In March, the central bank unveiled plans to buy $300 billion of U.S. Treasurys and increase its purchases of mortgage-backed securities in order to keep longer-term interest rates low. It did not announce any changes to those plans Wednesday.
But yields on Treasurys have been creeping up in recent months, rising by more than a full percentage point since the Fed's March announcement. Bond prices fell Wednesday following the Fed's statement, pushing yields higher again. (Bond rates and prices move in opposite directions.)
Economists said there's not much the Fed can really do to control the benchmark U.S. 10-year yield and mortgage rates that are pegged to it.
For this reason, Sung Won Sohn, an economics professor at California State University Channel Islands, said the Fed is caught between a rock and a hard place.
"If it buys more bonds trying to limit the rate increase, it could fuel the budding inflation psychology pushing up the interest rate," he said.
Some Fed watchers have been looking for signs from the central bank about when it may begin to unwind its positions in Treasurys and mortgage-backed securities, a so-called exit strategy from this period of massive stimulus.
The Fed did not give any guidance though, saying only that it is monitoring its balance sheet and will make adjustments as warranted.
Several economists said the Fed likely has had discussions about an exit strategy, even if details weren't spelled out Wednesday. But economists added that it is too soon for the Fed to be detailing such plans to fight inflation since the economy remains weak.
"I was surprised the market was really anticipating they would do something more in the statement," said Michael Strauss, chief economist of Commonfund, a fund manager for nonprofit institutions. "There's no reason for them to do anything at this point."
Kurt Karl, chief U.S. economist for Swiss Re, added that "the exit strategy will be a slow process" since there won't be any significant economic growth until next year.
Still, some Fed watchers were critical of the Fed for not spelling out its strategy.
"The drumbeat for the Fed to lay out more details of its exit strategy is growing louder by the day," wrote Kevin Giddis, managing director of fixed income at Morgan Keegan, in a note late Wednesday afternoon. "The Fed statement failed to address this important issue."
Giddis added that the uncertainty about what the Fed will do next could lead to a continued sell-off of bonds and even higher rates.

Features

These Fortune 100 employers have at least 350 openings each. What are they looking for in a new hire? More

It would be the world's second-biggest economy. See how big companies' sales stack up against GDP over the past decade. More