Is stimulus creating jobs? Yes but ...
House committee reports 21,000 actual highway and transit jobs created or saved. White House says number is in line with its 150,000 jobs estimate.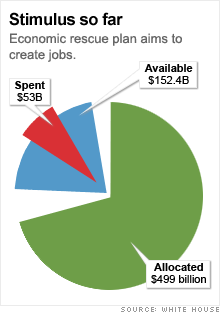 Map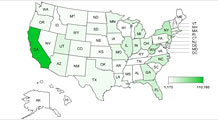 NEW YORK (CNNMoney.com) -- So just how many stimulus jobs have been created or saved so far?
The figure remains elusive, but Congress provided one of the first peeks this week by reporting that stimulus has funded 21,000 highway and transit jobs as of May 31.
The number, one of the first counts of actual stimulus-based employment, is based on state reports to the House Transportation and Infrastructure Committee. Thousands of indirect jobs -- such as the deli employee who prepares lunch for the construction crew or the workers who produce the steel needed for projects -- were also created or sustained.
The White House says the figure is in line with its projection that the $787 billion recovery act has created or saved 150,000 jobs in the administration's first 100 days. The 150,000 number, which includes direct and indirect positions, is an estimate based on the amount of stimulus funds spent. Each $92,000 of stimulus funds spent translates into one job, according to the White House formula.
Congressional Republicans, who have blasted the recovery act as wasteful spending that won't create nearly the number of jobs promised, took issue with the figure.
Rep. John Mica, R-Fla., criticized the Obama administration for not reporting a specific number of jobs created or saved by stimulus-based infrastructure spending.
Mica, the ranking Republican on the transportation committee, pointed out that only 21,000 positions have been produced, though the committee's Democrats have said that the $64.1 billion in infrastructure spending would create or sustain more than 1.8 million jobs.
"This is pitiful that we can't get people working, we can't get the stimulus money out," Mica said. "People want jobs and they want them now."
In his weekly address, House Republican Leader John Boehner, R-Ohio, also slammed the administration for failing to stem the rising unemployment tide. The unemployment rate rose to 9.4%, its highest level in 26 years. It's expected to climb to 9.6% when the June numbers are released next Thursday.
"All year long, Democrats here in Washington have made plenty of promises about putting Americans back to work, but I think the question is: Where are the jobs?" he said. "We all remember the trillion-dollar stimulus bill Democrats promised would be about jobs, jobs and jobs. And clearly all it's turned into is about spending, spending, and more spending."
Creating jobs
The administration said that the 21,000 construction jobs figure meshes with the 150,000 figure. The White House is also taking into account the jobs created or saved by stimulus money spent on tax cuts and entitlements, such as Medicaid. Much of the initial stimulus funds spent went to states to help them cope with rising Medicaid rolls.
"It's not just that we're paving I-57 in Illinois, how many jobs did that create?" Gavin said. "It's accounting for a much broader universe."
Testifying before the House committee Thursday, federal transportation officials updated their employment estimates. The Federal Transit Administration said that 19,000 jobs have been created or saved so far, and another 45,000 would be from the grants that are in progress. These figures are based on formulas.
Some 6,000 actual jobs have been created or saved by stimulus highway money, as of the end of May, according to the Federal Highway Administration. The agency estimates the 1,500 projects currently underway will ultimately create 50,000 positions. The agency's total $27.5 billion stimulus allocation is estimated to create or sustain 300,000 jobs by 2012.
"Federal agencies, states and their local partners have demonstrated that they can deliver transportation and infrastructure projects and create urgently needed employment in the tight timeframes set forth in the recovery act," said Rep. James Oberstar, D-Minn., who heads the transportation committee.

Features

These Fortune 100 employers have at least 350 openings each. What are they looking for in a new hire? More

It would be the world's second-biggest economy. See how big companies' sales stack up against GDP over the past decade. More