Credit card craziness
Despite rising unemployment, record defaults and tough new rules, card issuers are raising rates and AmEx is the Dow's best performer this year. Huh?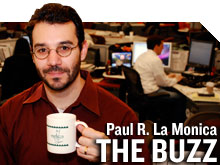 301 Moved Permanently
---
nginx
NEW YORK (CNNMoney.com) -- Last I checked, the economy's still in recession, unemployment is rising, and consumers are having trouble paying their bills. But you wouldn't know this from looking at what's going on in the credit card world lately.
The First National Bank of the U.S., aka Citigroup (C, Fortune 500), recently jacked up the rates on 13 million to 15 million credit cards it offers through co-branding relationships with retailers.
The move comes only a few months before new government rules are set to kick in that will make it more difficult for card issuers to raise interest rates and tack on more fees for borrowers.
Citi, which will soon be 34% owned by taxpayers, is not alone. Other big banks, including Bank of America (BAC, Fortune 500) and JPMorgan Chase (JPM, Fortune 500), have been boosting rates on cardholders ahead of the looming crackdown. Most banks have argued that the higher rates are justified because the only way they can continue to offer credit to consumers is if they are able to make a profit from doing so.
"This is an ongoing process to ensure we offer terms, interest rates, credit lines and products based on individual needs and risk profiles. These changes also reflect the dramatically higher cost of doing business in our industry as we work to preserve the broad availability of credit," said Citi spokesman Samuel Wang in a statement to CNN Wednesday about its recent rate hike.
Still, you can argue that higher interest rates for already struggling borrowers could lead to even more defaults -- which will just compound the problem for card issuers. So Citi could wind up shooting itself in the foot by raising rates.
In fact, rating agency Fitch said in a report Wednesday morning that U.S. credit card chargeoffs rose 62% in June from a year ago to a new high of 10.44%.
"U.S. consumers continue to fall behind and default on their credit cards at record rates," Fitch said in its report. The company added that even though the pace of chargeoff increases may soon slow, "actual improvements are not foreseen at this time."
That makes sense since the unemployment rate is expected to increase for some time. A general rule of thumb in the card industry is that chargeoffs tend to rise in tandem with the unemployment rate. Economists are predicting that it hit 9.6% in June -- those figures will be released by the government Thursday.
Talkback: Should the government be even tougher on credit card companies? Have you been hit with higher rates or new fees lately? Leave your comments at the bottom of this story.
Despite all this, shares of several companies with big exposure to the credit card business have surged during the past few months on hopes the worst is over for the economy.
American Express (AXP, Fortune 500) has gained back all the ground it lost in the market's January and February swoon and is now up 25% so far in 2009, making it the best performer in the Dow Jones industrial average in the just-ended first half of the year. Shares of Discover Financial Services (DFS, Fortune 500), Visa (V, Fortune 500) and Mastercard (MA, Fortune 500) are also in the black year-to-date.
The rally doesn't appear to make sense. Aren't consumers saving more and cutting back on their spending? And won't the new rate and fee restrictions take a bite out of profits?
Probably. But despite those challenges, some analysts believe that things are still looking up for credit card companies.
In a report Monday Keefe, Bruyette & Woods analysts Sanjay Sakhrani and Steven Kwok argued that credit cards "will continue to provide one of the most lucrative returns of the asset classes within banks' portfolios."
The KBW analysts conceded in their report that card companies are "under siege on many different fronts" and that "the industry is likely to be somewhat smaller and less profitable after new laws are put in place." But they added that the card companies should be able to adapt to the new regulations.
Sakhrani and Kwok also wrote that the new rules on fees will least affect credit card networks Visa and Mastercard and probably won't have as big of an impact on AmEx and Discover as some fear.
Instead, they suggested that Capital One Financial (COF, Fortune 500), which has a higher dependence on fees, faces the most risk from the new card law. Not surprisingly then, Capital One's stock is still down sharply this year -- even though it too has surged from its lows in March.
Still, it may be unwise to dismiss the prospect of unemployment topping 10%, more scrutiny from the government and consumer's newfound sense of thrift -- especially after the sizable bounce the credit card stocks have enjoyed as of late.
"The second half of the year could be a lot more difficult for the card companies, particularly with the new legislation coming in. Plus, the economic recovery is still far from strong," said Frank Barkocy, director of research with Mendon Capital Advisors, an investment firm that focuses mainly on financial stocks.
Barkocy said his firm has short positions in some of the credit card companies, which means that the firm is betting the stock prices will go down. He declined to name specific card companies it is betting against, however. But he said that the run-up may not be justified given that delinquencies and defaults should keep rising.
"We should have further periods of economic weakness so losses are likely to be higher than anticipated. That might take some of the excitement out of the card stocks," Barkocy said.
Talkback: Should the government be even tougher on credit card companies? Have you been hit with higher rates or new fees lately?

Features

These Fortune 100 employers have at least 350 openings each. What are they looking for in a new hire? More

It would be the world's second-biggest economy. See how big companies' sales stack up against GDP over the past decade. More