Weak auto sales continue into June
Most major automakers report disappointing sales in June despite some glimmers of hope; Ford one of few to beat expectations.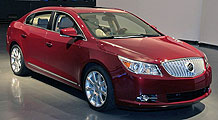 GM is launching a slate of new products. Can they give a lift to the auto giant as it enters a new era?
NEW YORK (CNNMoney.com) -- Most major automakers reported weaker than expected U.S. sales for June, proving yet again that the industry's pain hasn't ended. But there are some glimmers of hope.
No. 1 automaker General Motors (GM, Fortune 500), which filed for bankruptcy at the beginning of the month, reported that sales fell 33% from a year ago, worse than forecasts of a 29% drop from sales tracker Edmunds.com.
No. 2 automaker Toyota Motor (TM) and Chrysler Group also reported large sales declines that were worse than expected. Ford Motor (F, Fortune 500) was the only major automaker to report a sales drop that wasn't as bad as analysts feared.
There were some faint bits of hope for the industry though. While the seasonally adjusted annual sales rate in June slipped to 9.7 million from 9.9 million in May, it was still the second best month of the year. But the fact that sales remain so weak is a sign that there is unlikely to be any quick rebound.
"Bouncing back is the wrong term to use for auto sales. It's going to be a slow, gradual recovery," said Jessica Caldwell, industry analyst for Edmunds.com. "That said, anything that shows stabilization or a little improvement is good news at this point."
Tom Libby, president of the Society of Automotive Analysts, said it's not too soon to say that the worst of the auto downturn is over, despite the modest sales numbers in June.
"I think we're gradually starting our way up," he said. "There's a lot of negatives right now -- two automakers in bankruptcy in June - that when they move aside, there should be some help ahead on the horizon."
GM reported that sales to U.S. consumers rose 10% from last year. The hit to its overall sales was due to a 49% decline in so-called fleet sales to customers such as rental car companies.
GM shut down many of its plants during the month of June to burn off excess inventory, a process that reduced its fleet sales.
Chrysler, which emerged from bankruptcy last month and formed an alliance with Italian automaker Fiat (FIATY), reported similar trends. Overall sales fell 42% in June from a year ago, but much of that decline was due to a 95% drop in fleet sales while plants were shut down.
Chrysler said sales to retail customers fell only 16% in June, and that its retail market share rose more than one percentage point to 9%.
Ford also reported a market share increase from a year ago, despite an 11% decline sales. That drop was the smallest year-over-year decrease since February 2008. Edmunds.com was predicting a decline of 16%.
The stronger than expected sales from Ford could lead to industrywide light vehicles sales topping a seasonally adjusted annual rate of 10 million for the first time this year.
Ford also announced it was upping its third quarter production plans by 25,000 vehicles to 485,000. That will put production for the quarter 16% above year-ago levels. In another encouraging sign, Ford said its inventory declined by 8,000 vehicles over the past month.
Asian automakers, which have largely held up better than their Detroit rivals during the auto sales slump, posted relatively weak results in June.
Toyota's sales fell 33%, worse than the 28% decline forecast by Edmunds.com. Toyota did not break down its fleet or retail sales. But since the Japanese automaker did not shut down production in June and traditionally has a far lower level of fleet sales than the U.S.-based automakers, its decline is more likely linked to weak consumer sales.
Honda Motor (HMC) posted a nearly 30% sales decline, while Nissan (NSANY) posted a 23% drop in sales. Both were roughly in line with Edmunds.com's forecast.

Features

These Fortune 100 employers have at least 350 openings each. What are they looking for in a new hire? More

It would be the world's second-biggest economy. See how big companies' sales stack up against GDP over the past decade. More