Mortgage applications at 7-month low
Industry group says requests for home loans fell 18.9% last week as borrowing costs increase.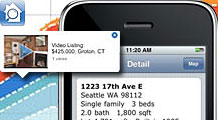 Real estate Web sites are constantly coming up with new ways for homebuyers to get information about the market. Here are 5 new sites that can make house hunting easier.
NEW YORK (Reuters) -- Mortgage applications plunged to a seven-month low last week as demand for home refinancing loans tumbled 30%, data from an industry group showed Wednesday.
The drop does not bode well for the hard-hit U.S. housing market, which has been showing some signs of stabilization, with sales rising and home price declines moderating in many regions of the country.
The Mortgage Bankers Association said its seasonally adjusted index of mortgage applications, which includes both purchase and refinance loans, for the week ended June 26 decreased 18.9% to 444.8, the lowest reading since the week ended Nov. 21, 2008.
Kenneth Rosen, chairman of the Fisher Center for Real Estate and Urban Economics at the University of California, Berkeley, said mortgage rates are just one factor driving potential borrowers.
"Rising unemployment, concerns about job security, potential buyers' inability to sell their existing homes and problems with appraisals coming in too low are all weighing on demand," he said.
"The government needs to take more aggressive action to bring mortgage rates back down to below 5% as that seems to be a key level for the market," he said.
Borrowing costs on 30-year fixed-rate mortgages, excluding fees, averaged 5.34%, down 0.10 percentage point from the previous week, but significantly higher than the all-time low of 4.61% set in the week ended March 27. The survey has been conducted weekly since 1990.
Mortgage rates remained above 5% for a fifth straight week, but were well below year-ago levels of 6.33%.
Thirty-year mortgage rates had mostly been on a downward trend since the Federal Reserve unveiled its plan to buy mortgage-backed debt in late November. But the Fed met resistance in the bond market in late May and early June.
Treasury yields, which act as a benchmark for mortgage rates, rose sharply during that period. Treasury yields, however, have come down recently, allowing rates to fall.
The MBA's seasonally adjusted purchase index fell 4.5% to 267.7.
The four-week moving average of mortgage applications, which smooths the volatile weekly figures, was down 9.2%.
Refining activity sinks: The mortgage bankers' seasonally adjusted index of refinancing applications decreased 30% to 1,482.2, also the lowest level since the week ended Nov. 21, 2008.
Refinancings accounted for 46.4% of applications, down from 54% the previous week and significantly lower than the peak of 85.3% in the week ended Jan. 9.
The U.S. housing market is in the worst downturn since the Great Depression and its impact has rippled through the recession-hit economy, as well as the rest of the world. Economists contend that the economy might not emerge from its slump unless the housing market stabilizes.
The shares adjustable-rate mortgage activity increased to 4.3% in the latest week, up from 4.1% the previous week.
Fixed 15-year mortgage rates averaged 4.81%, down from 4.93% the previous week. Rates on one-year ARMs decreased to 6.52% from 6.54%.

Features

These Fortune 100 employers have at least 350 openings each. What are they looking for in a new hire? More

It would be the world's second-biggest economy. See how big companies' sales stack up against GDP over the past decade. More