GM's roadmap out of bankruptcy
The automaker moved from court filing to court approval of its plans in barely a month. But many steps lay ahead for GM to survive.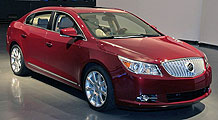 GM is launching a slate of new products. Can they give a lift to the auto giant as it enters a new era?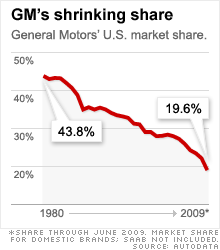 NEW YORK (CNNMoney.com) -- Thanks to a bankruptcy court decision issued late Sunday night, General Motors is close to making a quick trip through bankruptcy. But that doesn't mean that its reorganization is almost done.
U.S. Bankruptcy Judge Robert Gerber approved plans laid out by GM and the Obama administration for a sale of GM's more valuable assets to a "new GM," which will retain both the company's name and its more profitable brands such as Chevrolet and Cadillac.
Many of its liabilities, including contracts with thousands of dealerships and more than $27 billion in debt to bondholders, will remain part of a continuing bankruptcy proceeding for the old GM.
Now renamed Motors Liquidation Co., the old GM will spend at least two to three years disposing of all those liabilities and finishing up the bankruptcy case.
In short, many steps remain before GM has any chance of becoming a competitive, money-making automaker.
Some issues are outside of its control. Tight credit and a poor economy has sent industrywide U.S. auto sales to levels not seen in decades. A recovery in auto sales is crucial for GM (GMGMQ) and Chrysler Group, which recently exited from bankruptcy itself with financing from the government, to return to the black.
No automaker -- not Ford Motor (F, Fortune 500), the only U.S. automaker to avoid bankruptcy, not deep-pocketed Toyota Motor (TM) -- can make a profit at current U.S. sales levels. In the first six months, Americans have bought only 4.8 million vehicles.
Here's what's next for GM as it tries to put its bankruptcy behind it.
Near term
The first step is the creation of the new GM. But that will likely have to wait a bit because Gerber, as expected, put his order on hold for four days. That will give time for the 850 parties to the case that objected to the Obama plan to try to get another federal court to stop it from taking effect.
The same kind of stay was in place when a similar sale was approved in the Chrysler bankruptcy case in June. While the Supreme Court temporarily held up the Chrysler case, it eventually allowed the sale to go through without comment.
Many experts expect that the GM sale will close quickly, even if not in exactly four days.
"There might be a lot of people unhappy, but no one wants to go through the time and expense of fighting it," said Jeffrey Manning, managing director at investment banking firm Trenwith Securities LLP, and an expert in bankruptcy and restructuring.
Once the new GM emerges from bankruptcy, it will be owned 60.8% by Treasury, 17.5% by a union controlled health care trust fund, 11.7% by the Canadian and Ontario governments, and 10% expected to go to the old GM's bondholders.
Current GM shareholders will be left with no ownership in the new company.
Later this this year
GM intends to shed half of its U.S. brands as it moves forward. Pontiac will be discontinued. Saturn, Saab and Hummer will be sold. The sales were announced since the June 1 bankruptcy filing, but none have yet closed. All three deals are due to close before the end of this year.
The last Pontiac is due to be made in September.
Most GM facilities are now idle because of a regularly scheduled two-week summer shutdown. But this year that shutdown was started as early as May for some plants.
By next week, 6 of 15 U.S. assembly lines are due to restart operations, and 11 are set to be back in operation by the week of July 20.
During the bankruptcy, GM identified 16 plants and other facilities that will be closed in the coming years. They were left behind in bankruptcy with Motors Liquidation Co. But most of those plants will continue to make GM cars and products in the near term. Some will not be closed until 2012. The new GM will lease those facilities from Motors Liquidation for as long as they stay open.
The closing of those plants is expected to trim 20,000 workers from GM's current workforce of about 88,000. Those employees, even those at the plants targeted for closure, will work for the new GM, not Motors Liquidation. Some will be offered jobs that open up at other facilities. But many are expected to leave the company as their plants are closed. Other jobs will be cut through plans to trim salaried staff and through retirements at plants that will stay in operations. By the end of the year, GM U.S. employment is expected to be 68,500.
Before the bankruptcy, GM had received $19.4 billion in federal help. As part of its bankruptcy case, Treasury agreed to pour in an additional $30 billion.
So far, the automaker has received $10 billion to $11 billion of that $30 billion. The rest will be doled out as-needed the rest of the year, Steve Rattner, Treasury's key auto adviser, told reporters Monday.
2010 and beyond
GM used the bankruptcy to shed agreements with 1,900 of its 6,000 U.S. dealerships.
Unlike Chrysler, which moved to terminate its unwanted dealership before its bankruptcy sale was finalized, GM will keep about 99% of those dealerships to try to have a more controlled wind down of its network.
Some of the dealerships that GM will shed sold Saab, Saturn or Hummer and no other GM brand. Most of the rest of the dealerships will continue to sell vehicles and do warranty work for GM customers into 2010.
GM is staging the dealer closings because they had more than 65,000 cars in their inventories as of May, and the automaker didn't want to flood the market with unsold vehicles.
Stock in the new GM will not be publicly traded again until 2010 at the earliest. It will need to complete a complex initial public offering -- the timing of which will depend on when the market for cars, and for stocks, shows signs of improvement.
"IPOs are difficult to execute when the market is not reasonably robust," said Rattner. He said he hoped that shares could be sold as early as the first half of 2010, but he wasn't making promises.
Rattner repeated earlier statements that the administration wants to sell its GM stake as soon as possible. But he made clear that it will be awhile.
Dumping its entire stake as soon as GM started trading would depress the stock price. Judging by the history of privatizing government-controlled companies, it is likely to be a multi-year process.
"You can not simply sell it in one day," Rattner said.

Features

These Fortune 100 employers have at least 350 openings each. What are they looking for in a new hire? More

It would be the world's second-biggest economy. See how big companies' sales stack up against GDP over the past decade. More