Obama mortgage plan needs work
Many borrowers are not getting help under president's modification or refinancing plan. Officials don't expect problems to be fixed until the fall.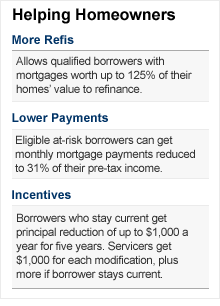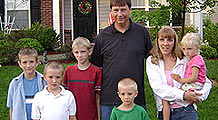 Homeowners in trouble are having mixed results applying for President Obama's foreclosure prevention plan. CNNMoney.com readers tell us their tribulations and triumphs trying to get their loans modified or refinanced.
NEW YORK (CNNMoney.com) -- Mr. President, help us get one of your mortgage workouts now.
That's what many borrowers are saying nearly five months after President Obama unveiled his housing rescue plan. The program is beset with problems, say borrowers, housing counselors and even the president himself.
Loan servicers are overwhelmed by the numbers of homeowners applying for loan modifications or refinancing. Borrowers are frustrated that their paperwork is being lost, and calls are not returned. Administration officials are racing to roll out new features to improve the program.
Even Obama acknowledges that the program is failing to stem the foreclosure tidal wave.
"Our mortgage program has actually helped to modify mortgages for a lot of our people, but it hasn't been keeping pace with all the foreclosures that are taking place," Obama said last month.
CNNMoney.com has heard from hundreds of troubled homeowners who've run into roadblocks. The complaints are often the same: a lack of responsiveness by servicers.
Even many of those whose applications are deemed complete say they never receive final approval or are told they can't be helped now because they haven't missed a payment.
"We are trying to refinance but are getting the runaround from the bank," Janeen, a Los Angeles homeowner, wrote on a CNNMoney.com Talkback. "[T]hey keep stalling, missing appointments and forgetting to send us paperwork."
Administration officials say they are well aware of the problems and are leaning on the banks to do better. Servicers will have to report the results of their efforts within the next month or two, opening them up to public and government scrutiny, said Seth Wheeler, senior adviser at the Treasury Department.
But don't expect the hurdles to go away anytime soon.
"Immediately, we want to see an improvement in borrower experience, but I don't think that means we will see a resolution of every hiccup in the process," Wheeler said. "We should see over the course of the summer real improvement, but those challenges will linger well into the fall certainly."
Under the Obama plan, people with little or no equity in their home can refinance to take advantage of today's low mortgage rates. The plan allows people to participate even if they have loans of up to 125% of the value of their property, as long as they meet other criteria.
Also, eligible borrowers who are in or at risk of default may be able to lower their monthly payments to no more than 31% of their pre-tax income through a loan modification. Homeowners, servicers and mortgage investors can receive incentives to entice them to participate.
Announced in February and implemented by most servicers starting in April, the program has produced more than 200,000 trial modifications and 20,000 refinancings. Borrowers in the loan modification program must make three on-time payments before the adjustment is considered official.
Foreclosures rising
While the administration often highlights that the program has helped a lot of people in a short period of time, it has a long way to go if it is to truly stem the foreclosure crisis, experts say.
Nearly 1.5 million homes have received a foreclosure filing in the first five months of the year, according to RealtyTrac. Defaults are on track to hit 3.5 million this year, according to Mark Zandi of Moody's Economy.com.
Foreclosures in process jumped in the first quarter by 22% over the previous quarter, according to data released last week by the Office of the Comptroller of the Currency and Office of Thrift Supervision. The number of mortgages that were more than 60 days past-due rose 7%, but delinquencies among prime borrowers with the best credit backgrounds soared nearly 20% as rising unemployment takes its toll.
"This system is not running at the level of efficiency that it has to," said Barry Zigas, director of housing policy for the Consumer Federation of America.
Getting through to the banks isn't easy.
Distressed borrowers have told CNNMoney.com that they are in danger of losing their homes because their banks are not able to handle the flood of applications for the president's foreclosure prevention plan. In addition to problems with lost documents and endless waits on hold, borrowers complain they never receive an answer or are told they can't be helped because they are still current with payments.
Tanya in Jacksonville, Fla., wrote in the Talkback that she has contacted her servicer 27 times since applying for a loan modification in April, faxed all the documents six times and is still not getting help. "So still I wait. Still I have no assistace[sic] in my loan!"
"Now it has been a month since I returned all the proper paper work and have received no correspondence," wrote Craig of Howell, Mich., who is seeking to refinance. "I call the loan officer I spoke with at least once a week and she refuses to return my phone calls!! Getting a person on the phone who is [knowledgeable] is next to impossible since everyone there makes Forest Gump look like Albert Einstein. I'm simply fed up with this whole process."
Housing counselors, who help distressed borrowers navigate the system, are quite familiar with stories such as these. Much of the bottlenecks stem from the fact that servicers have not hired nor trained enough staff, nor have they fully updated their computer systems to handle the administration's program, said Bruce Dorpalen, director of housing counseling for Acorn Housing.
"There's no excuse for this," he said. "The servicers are not able to make decisions, or good decisions."
Still ramping up
Banks and government officials say the foreclosure prevention program is very complicated, requiring a lot of training, system upgrading and documentation. Therefore, the institutions need time to ramp up.
"We have a new plan that's also more complex than any other plan," said Faith Schwartz, who heads Hope Now, a coalition of servicers, community groups and mortgage investors working to stem foreclosures. "The banks have tripled, quadrupled their staffs. It will be effective. We'll see more in the fall."
Citigroup (C, Fortune 500), for instance, said it is trying to resolve cases as expeditiously as possible, while JPMorgan Chase (JPM, Fortune 500) has touted the fact that it had approved 87,000 applications by June 30. Both banks said they are looking to improve.
The Treasury Department is pressuring servicers to streamline the application process. And officials say they will check to make sure banks are following the guidelines.
The soon-to-be-issued reports will include how many loan modifications and refinancings have been extended and how many are underway at each institution. Servicers with low approval levels or high complaint figures will raise red flags. Also, the administration has hired Freddie Mac (F, Fortune 500), the mortgage finance firm now under the government's control, to check the applications that have been approved and rejected.
"It's not just that we're hoping that servicers get out there and get results," Wheeler said.

Features

These Fortune 100 employers have at least 350 openings each. What are they looking for in a new hire? More

It would be the world's second-biggest economy. See how big companies' sales stack up against GDP over the past decade. More