The antitrust crackdown and your wallet
With several industries under the Justice Department's microscope, some say consumers will benefit. Others disagree.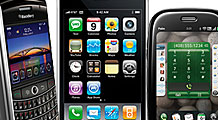 Tech competition is heating up: Google vs. Microsoft! Microsoft vs. Apple! Apple vs. Palm! Here's how the second half of '09 is shaping up.
NEW YORK (CNNMoney.com) -- Obama's Justice Department is getting serious about its antitrust crackdown, but what will that mean for consumers?
In the past three months, the DOJ has announced investigations into Google's (GOOG, Fortune 500) book search program and payments by brand-name drugmakers to companies that make generics.
Reports also circulated last month that there was a preliminary investigation underway of hiring practices at Big Tech companies, including Google, Apple (AAPL, Fortune 500), Yahoo (YHOO, Fortune 500) and Genentech.
On Monday, The Wall Street Journal reported that telecom market leaders Verizon (VZ, Fortune 500) and AT&T (T, Fortune 500) were under the microscope. The companies said they weren't aware of any investigation and the Justice Department declined to comment.
The investigations mark an about-face from the Bush administration's more laissez-faire approach to antitrust.
In May, Christine Varney, assistant attorney general of the Justice Department's antitrust division, laid out the Obama administration's policy, saying the government agency would be "aggressively pursuing" monopoly and antitrust cases against dominant companies to "ensure the American consumer's access to the best products at the lowest prices."
What it all means for you. Some experts say targeting dominant companies engaged in anti-competitive practices helps consumers, since increased competition usually results in lower prices.
"Antitrust is just a fancy word for consumer protection," said Richard Brosnick an antitrust attorney at Butzel Long. "These investigations are intended to be pro-consumer by preventing exclusive deals that heighten prices or reduce selection."
But others say clamping down on antitrust -- especially in a recession -- will only hurt consumers. They argue that targeting big companies will hamper innovation and limit choice for consumers.
"I don't think there's ever a time to go after successful businesses that are helping the public," said James Gattuso, senior fellow in regulatory policy at the conservative-leaning Heritage Foundation. "The best system is where consumers decide for themselves. But by cracking down on ill-advised antitrust laws, you are telling companies, 'Don't make investments, don't try to be successful and help consumers.' "
Gattuso also believes that the Obama administration's antitrust policies could slow an economic rebound.
"There's a very strong chance it could hurt the economic recovery, which won't come from Washington by spending money out of Congress, but by people putting their own savings into new ideas that they hope will be successful," he said.
Drilling into telecom. If the telecom investigation is indeed taking place, experts say the government may investigate exclusivity deals like the one Apple has with AT&T for the iPhone.
Through that deal, iPhone consumers' choice in wireless provider is limited to AT&T, and AT&T can set its service costs without a worry that competitors will undercut them. RIM's (RIMM) BlackBerry smartphone, on the other hand, is available on all carriers, and has benefited from providers' promotions, including Verizon's buy-one-BlackBerry-get-one-free deal.
"Exclusivity deals like Apple and AT&T led some consumers to hack into their iPhones," said Brosnick. "There will be a lot more scrutiny going forward when it comes to those kinds of deals."
Some believe that just the threat of an investigation into the telecom industry will help lower prices and provide consumers with more control over their phone plans.
"The U.S. and Canadian markets in particular have very limited price-based competition among carriers," said Andy Castonguay director of mobile and access devices research at Yankee Group. "Before the government gets involved in any antitrust issues, operators will have to take very tactical and practical measures to avoid governmental intervention."
Castonguay said government pressure could lead companies to change their payment structures so that overage charges would be a thing of the past. For example, a customer with a 450-minute plan that uses 650 minutes could be automatically bumped up to a 700-minute plan, which costs, say, $10 more per month, rather than 45 cents per extra minute charge, which would cost $90.
He also said the telecom industry could be forced to make it easier to switch phones to rivals' networks or alert users before they are charged for going over their minutes.
"There are a number of things that are bizarre about mobile industry," said Castonguay. "To the extent that they can implement these tactics, they would come across as much more fair and reasonable."
Still, others argue if the telecom and wireless industry is indeed in need of a crackdown, it should come from consumers.
"In the wireless industry, there is more choice than in most industries," said Gattuso. "Consumers have been able to choose what they want and benefit from that choice. Antitrust should be confined to where that choice doesn't exist."

Features

These Fortune 100 employers have at least 350 openings each. What are they looking for in a new hire? More

It would be the world's second-biggest economy. See how big companies' sales stack up against GDP over the past decade. More