GM on cusp of exiting bankruptcy
Nation's No. 1 automaker could be out of bankruptcy court soon. Announcement of 'new GM' expected Friday morning.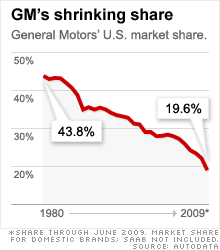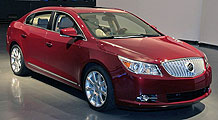 GM is launching a slate of new products. Can they give a lift to the auto giant as it enters a new era?
NEW YORK (CNNMoney.com) -- A leaner General Motors was close to starting a new life under government ownership Friday.
GM Chief Executive Fritz Henderson is planning a press conference for 9 a.m. ET.
On Thursday, a judge denied an 11th-hour request to block the automaker's quick exit from bankruptcy.
U.S. Bankruptcy Court Judge Robert Gerber, who approved the automaker's restructuring plan late Sunday night, gave parties that objected four days to file appeals.
Those objectors include lawyers who had legal actions pending against GM, as well as some bondholders and smaller labor unions.
U.S. District Judge Lewis Kaplan on Thursday denied a request by a committee of some of those objectors to delay Gerber's order.
Creditors at Chrysler Group were able to win a brief stay of a similar order during its bankruptcy process in June. But that stay was lifted without any court hearing arguments. So the chances of blocking the GM sale were seen as a long-shot.
GM, which despite decades of declining market share is still the nation's largest automaker, filed for bankruptcy on June 1. It has been able to quickly move through the bankruptcy process by taking its more valuable brands, factories, dealerships and overseas operations and selling them in a "new GM" owned mostly by the U.S. government.
The new company will include the Chevrolet, Cadillac, Buick and GMC Brands, along with its overseas operations. About 4,100 of its 6,000 U.S. dealerships will remain with the new company, although there will be a slow wind down over the next 14 months of the dealerships that GM plans to shed as part of this process. The company will also have only a fraction of the $54 billion in unsecured debt it had heading into bankruptcy.
Other holdings, contracts and liabilities that GM wanted to shed as part of the bankruptcy process will be held by the old company, now to be known as Motors Liquidation Co. (GMGMQ).
The process of disposing of those assets and liabilities could take two or three years. These holdings include about 16 U.S. plants and facilities that employ about 20,000 workers. While some of the plants will stay open through 2012, many of those plants will close and many of the workers will leave the company before the end of the year.
The federal government will initially hold 60.8% of the stock in the new company, with a union-controlled health care trust fund owning 17.5%, the Canadian and Ontario governments owning 11.7% and bondholders of the old GM eventually getting about 10%. Those who owned the shares in the old company will be left with nothing.

Features

These Fortune 100 employers have at least 350 openings each. What are they looking for in a new hire? More

It would be the world's second-biggest economy. See how big companies' sales stack up against GDP over the past decade. More