Can't pay your doctor? Charge it!
As more cash-strapped Americans resort to paying medical bills on credit cards, experts say it's a risky trend for consumers but a huge untapped market for lenders.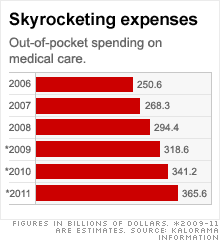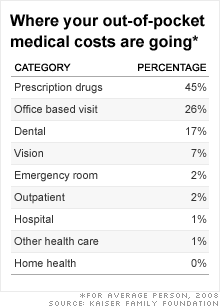 NEW YORK (CNNMoney.com) -- As medical bills pile up, more Americans are paying their doctors with plastic.
Consumer advocates warn that this is a dangerous trend, but industry watchers see a multi-billion dollar opportunity for lenders to offer specialized "medical" credit cards.
"Out-of-pocket health care spending was already increasing in good times," said Bruce Carlson, publisher with health care market research firm Kalorama Information. "Now with high unemployment, consumers have to reach into their pockets even more to fund their health care."
Americans spend an estimated $294 billion on annual out-of-pocket medical costs annually, to cover everything from doctor's office co-payments to surgeries and prescription medications.
About 25% of that -- around $74 billion -- is already being charged to regular standard credit cards, according to Kalorama. McKinsey Consulting expects that $150 billion worth of health care expenses will go on credit cards by 2015.
Meanwhile, more than 79 million Americans are already struggling to pay off their medical expenses, according to the non-profit Commonwealth Fund.
Regardless, Kalorama's Carlson says that health care related credit is an obvious target market for financial services providers. With retail shopping drying up, lenders need new ways to boost consumer credit card balances.
"Medical expenses are costs that consumers can't avoid unlike other discretionary purchases that they're cutting back on. So why not get into financing it?" he said.
At the same time, doctors and hospitals are having a harder time than ever collecting what they are owed by patients, making fast and easy credit card payments an appealing option.
Some lenders are already in the market. GE Money and Citibank both offer special credit cards that can only be used for elective medical procedures, such as LASIK vision correction, liposuction and cosmetic dentistry, which are generally paid for out of pocket.
GE Money's CareCredit card, for instance, limits its 7 million or so customers to using the card within a special network of doctors.
But just like any other credit card, one missed payment can trigger an interest rate jump up to 27%.
New to the market this week is a Mastercard-branded card, issued by MasterCard Worldwide and OptumHealth, a unit of insurer United Healthcare. This card acts as a debit card rather than a credit card, and draws money down from existing health care funds like consumers' health savings accounts and flexible spending accounts. (Spokespeople for MasterCard and Visa declined to comment on the story.)
This is probably just the tip of the iceberg. Carlson is betting that the next generation of medical credit cards to hit the market will offer consumers designated lines of credit to use exclusively to pay for standard medical costs like copayments and prescriptions.
Still, GE Money spokesperson Cristi Williams says that the company "doesn't see the need to go into other areas of medical financing."
And David Robertson, publisher of industry newsletter the Nilson Report expects medical credit cards will remain a niche market.
"Given the (financial) difficulties that Americans are under, I'm sure there will be some interest in these products," he said. "But you also have to balance the desire of consumers with the reality that lenders face," Robertson said, referring to the credit crunch that has forced lenders to tighten their belts.
Bad for your health? One thing that is clear is that the moderate-to-low income consumers who will be most tempted to use credit cards to pay basic medical expenses are the ones who can least afford to take on more debt.
"[It's] a worrisome trend," said Mark Rukavina, executive director of Access Project, a nonprofit consumer health advocacy group. "Credit cards give an illusion of security," he said. "It will just delay the day of reckoning and could become the final push into bankruptcy." He advises that, "Unless there's a risk of losing life or limb, don't use them."
To his point, about 1.5 million Americans will declare bankruptcy this year -- and 60% of those filings are estimated to be tied to medical bills.
There are alternatives to paying medical bills with credit cards said Rukavina. Patients can try to cut deals with their doctor or hospital; medical providers often negotiate bills and payment schedules with consumers in financial trouble. Some providers also offer charity care, which is free or reduced charges for treatment, that consumers don't know about.
Of course, none of this addresses the larger issue of increasingly unmanagable health care costs, said Rukavina.
"Frankly," he said, "meaningful health care reform is the only real solution to bringing down costs and enabling more people to pay their (medical) bills."
Been to the mall lately? What has changed that you like or dislike? We want to hear about your experiences. E-mail your story to realstories@cnnmoney.com and you could be part of an upcoming article. For the CNNMoney.com Comment Policy, click here.

Features

These Fortune 100 employers have at least 350 openings each. What are they looking for in a new hire? More

It would be the world's second-biggest economy. See how big companies' sales stack up against GDP over the past decade. More