Intel sees a strong second half of '09
The world's largest chipmaker posts revenue of $8 billion as its profits were hard hit by a hefty antitrust fine from the European Commission.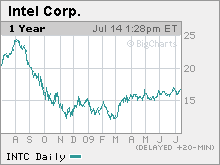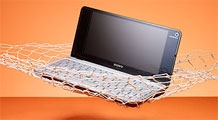 Netbooks are models of portability. But can you stare at those little screens all day? Our reviewer put three to the test.
NEW YORK (CNNMoney.com) -- Intel Corp. said Tuesday that its second-quarter sales fell compared to the same quarter a year ago, but that business is picking up fast.
Even as revenue declined from last year, sales figures were better than what analysts had expected. The company reported profits of 18 cents a share, excluding a one-time fine from the European Commission.
Sales fell $1.4 billion to $8.02 billion from $9.47 billion in the second quarter of 2008. Analysts were looking for revenue of $7.28 billion, according to a consensus estimate of analysts polled by Thomson Reuters.
Sales pick up: From the first quarter of 2009, sales surged $879 million as personal computer sales picked up. "Intel's second-quarter results reflect improving conditions in the PC market segment with our strongest first- to second-quarter growth since 1988 and a clear expectation for a seasonally stronger second half," said Paul Otellini, Intel president and CEO in a written statement.
In particular, sales from Intel's Atom chip, which are the units that go into smaller netbooks, spiked 65% from the first quarter.
Shares rose 34 cents to close at $16.83 during regular session trade on Tuesday, but surged as much as 8% in after-hours trading.
Intel expects that sales will continue to improve. For the third quarter, the microprocessing giant expects sales of $8.5 billion, plus or minus $400 million, according to the statement. However, the company also says that the overall economic climate could impair its ability to meet its guidance.
The company's sales will be driven more by consumer demand, like back-to-school shopping, than businesses replacing their computers, according to Otellini. He predicts that businesses will begin to evaluate their technologies toward the end of the summer, but won't begin their purchases this year.
Intel's dependence on the consumer concerned one analyst. "Over the past 5 months, oil prices have doubled and if oil prices continue to be where they are today, I think Intel may miss the guidance because the consumer is going to hit the breaks on buying new PCs," said Trip Chowdhry, senior analyst with Global Equities Research.
Antitrust charge hurts profits: In May, European regulators charged Intel with a record fine of $1.45 billion for violating antitrust laws by unfairly paying computer makers to delay or even cancel products that contained chips made by AMD, Intel's primary rival. Intel disagrees with the ruling., Advanced Micro Devices (AMD, Fortune 500) will report its second quarter results in one week.
Taking into account the one-time charge, the Santa Clara, Calif.-based company's net income was $1 billion, or 18 cents per share, for the three months ended June 30, compared with net income of $1.6 billion, or 28 cents per share, for the same quarter one year ago.
Intel easily beat analyst forecasts. A consensus estimate of analysts polled by Thomson Reuters, which typically excludes one-time charges, had forecast a profit of 8 cents per share.
Without adjusting for the one-time charge from European regulators, Intel posted a loss of $398 million, or 7 cents per share.
A good sign for tech: Intel (INTC, Fortune 500) is something of a bellwether for the tech sector. Investors watch its results as an indicator of spending on personal computers and servers. Intel makes the chips that power PC, and when manufacturers anticipate more consumer demand, they increase their purchasing with Intel.
"While the global economic environment is still recovering, our customers signaled increased confidence for a seasonal second half with their ordering patterns," said Otellini in the conference call after the report was released.
Consumers and businesses have been looking to get the extra mile out of their computers -- and put off buying a new one -- as they try to save money in the recession.
Demand in Asia was the quickest to recover. "Globally, we saw strength in Asia-Pacific, particularly China, where their stimulus programs continue to generate meaningful growth in their PC market," said Otellini on the conference call. "The U.S. also had a strong quarter while Europe's recovery lags that of the U.S. and China."
One of the contributing factors to a recovery in demand was the decline in inventories, which fell $240 million in the second quarter. "The supply chain began refilling inventory positions that had been depleted over previous quarters," said Stacy Smith, CFO, on the conference call.
Reaching outside the PC market: Sluggish PC sales have stung Intel, and investors are waiting to see whether a rebound in PC sales will be enough to revive Intel.
Intel and Advanced Micro Devices have the market cornered for the chips that go into standard personal computers, while Samsung and Texas Instruments (TXN, Fortune 500) have most of the market share for mobile-phone processors. At the end of June, however, Intel started working its way into the cell phone business by announcing a deal with the number-one cell phone maker, Nokia (NOK).
At the time of the announcement, Nokia and Intel would not provide any product details other than saying that they would collaborate to developer a new line of "mobile computing devices."
Intel is the first of three major technology companies to report its second-quarter financial performance this week: Google (GOOG, Fortune 500) and IBM (IBM, Fortune 500) are both set to report on Thursday after the bell.

Features

These Fortune 100 employers have at least 350 openings each. What are they looking for in a new hire? More

It would be the world's second-biggest economy. See how big companies' sales stack up against GDP over the past decade. More