Panel's mission: What caused the financial meltdown?
Congress names members of the Financial Crisis Inquiry Commission, which plans to start meeting next month to get to the bottom of the meltdown.
Bailout tracker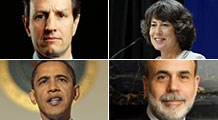 The government is engaged in a far-reaching - and expensive - effort to rescue the economy. Here's how you can keep tabs on the bailouts.
More
WASHINGTON (CNNMoney.com) -- A new government investigative panel charged with getting to the bottom of what caused the financial crisis was assembled on Wednesday, and its chairman vowed to begin work soon.
Congressional leaders named 10 members of the Financial Crisis Inquiry Commission, which has the power to hold hearings and collect records examining everything from fraud to executive pay during the collapse of the financial system. It will start meeting next month.
Leading the commission will be former California State Treasurer Phil Angelides, a Democrat who warned about financial sector abuses back in 2002 but lost a 2006 gubernatorial bid. The second-in-command is Bill Thomas, a retired California Republican congressman described as strong-willed during his tenure running the powerful Ways and Means Committee.
"Millions of Americans have lost their homes and hard-earned pensions, and it's our responsibility to make sure the facts are known so this is less likely in the future," Angelides said.
The panel joins a growing list of financial crisis watchdogs, each responsible for keeping an eye out for the taxpayer in different ways that often overlap. The Special Inspector General for the bailout and the Congressional Oversight Panel for the bailout and even the New York Attorney General have all pledged to stamp out fraud as they look at different parts of the financial crisis.
The new commission is the only group charged, by law, with looking at financial firms that failed and those that survived due to taxpayer infusions, Angelides said.
Will it have influence?
"We're unique in that we're a national commission comprised of Americans with a broad range of experiences, and we've been asked to take a look at the big picture," Angelides said.
Lawmakers say that the commission was modeled after the Pecora Commission, a panel that examined the 1929 Wall Street crash and other events leading to the Great Depression.
The Pecora panel's findings led to an overhaul of federal banking laws including the creation of the Glass-Steagall Act of 1933. Glass-Steagall divided investment banking from government-insured commercial banking -- a wall that was torn down in the 1990s.
But critics note that the commission's impact may be blunted by the pace by which the White House and lawmakers are already working to pass bills aimed at overhauling the regulatory system.
In fact, federal law requires a final commission report by December 2010. Observers expect regulatory reform to be mostly completed by the mid-term elections in 2010.
"Like most great commissions in this country's history, this one will be great at getting headlines, but the odds of it producing any kind of meaningful change are slim to none," said Jaret Seiberg, a policy analyst with Concept Capital's Washington Research Group. "The legislative process has already moved beyond the need for this commission."
The financial crisis panel has also been compared to the commission that investigated the Sept. 11, 2001, terror attacks. the 9/11 commission's final report found that federal agencies missed signs of the impending terrorist attacks.
But unlike the 9/11 panel, which was made up of equal numbers of Democrats and Republicans, the financial crisis commission is heavier on Democrats by 6-to-4.
Republicans have some power on the panel, which can't subpoena testimony and records without the approval of at least one member appointed by each political party.
Angelides pledged that politics would not interfere with the panel's work.
"Whether you're a Republican, Democrat or independent, that meant nothing on whether you lost your home to foreclosure or your life savings in this crisis," he said. "I'm hopeful that this inquiry will transcend partisan politics."
The commission was created as part of massive bill Congress passed in May that also gave the Federal Deposit Insurance Corp. power to borrow more and directed more funding toward fraud-fighting agencies.
Big names
One possible challenge for the panel: It's unclear how much information will come from the White House. When President Obama signed the bill he added what's called a "signing statement," pointing out that the executive branch doesn't plan to give up any of its "constitutional privilege" to keep its records sealed.
The panel includes other big names including Bob Graham, a former Democratic senator from Florida, and Brooksley Born, former chairman of the Commodities Futures Trading Commission. Born is best known for her unheeded warning about the dangers of unregulated complex financial products like derivatives.
Another Democratic member appointed is John W. Thompson, board chairman of security software Symantec Corp. (SYMC, Fortune 500) who President Obama considered a candidate for Commerce Secretary. The panel also includes two major contributors to Democrats in the last election cycle: Heather Murren, a retired Merrill Lynch director, and Byron Georgiou, a Las Vegas attorney.
Members appointed by Republicans include: Douglas Holtz-Eakin of DHE Consulting, a policy chief for Sen. John McCain's 2008 presidential campaign; Peter Wallison of the conservative think tank the American Enterprise Institute; and Keith Hennessey, an economic adviser to former President George W. Bush.

Features

These Fortune 100 employers have at least 350 openings each. What are they looking for in a new hire? More

It would be the world's second-biggest economy. See how big companies' sales stack up against GDP over the past decade. More