Bing gaining on Google and Yahoo
Microsoft's search engine has a strong first month, taking away market share from rivals Google and Yahoo. But experts doubt it will last.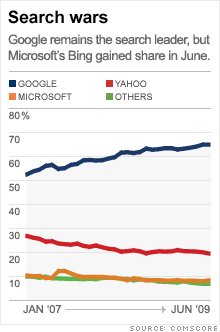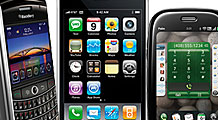 Tech competition is heating up: Google vs. Microsoft! Microsoft vs. Apple! Apple vs. Palm! Here's how the second half of '09 is shaping up.
NEW YORK (CNNMoney.com) -- Microsoft's new search engine, Bing, has been up and running for just a month, but it has already begun making waves in the lucrative search market.
Bing gained 0.4 percentage points of market share to 8.4% in June, according to a report released Wednesday by online data tracker comScore to analysts. Rival Google (GOOG, Fortune 500) remained at 65%, and second-place Yahoo (YHOO, Fortune 500) fell to 19.6%, down from 20.1% in May.
June marked the first month since January in which Google did not gain market share.
Microsoft's search market share had been slipping for more than two years. At the same time, the company has struggled to make its online advertising unit profitable. The June results represent the biggest monthly jump in Microsoft's market share since June 2008, and it is the biggest share of the market the company has held since January.
It also brought Microsoft's share as close to Yahoo's as it has ever been, according to comScore data that goes back to January 2007.
That's significant, because some analysts estimate that every percentage point of market share equals a swing of $100 million of revenue.
Bing's staying power. Microsoft (MSFT, Fortune 500) reported Monday that it has seen an 8% rise in unique visitors to Bing since the search site replaced its predecessor, Live Search, on June 3.
But experts are skeptical about how long Microsoft's boost can last.
"Microsoft's gain is a function of its $150 million PR effort," said Sandeep Aggarwal, senior Internet research analyst with Collins Stewart. "Since it was highly publicized, Microsoft has created a new buzz, and users came to the site out of curiosity."
"All of those things suggest more of a temporary gain," Aggarwal added. "If Bing can be where it was at the start of the year at the end of the year, that would be a success for Microsoft."
Others think it's too early to tell whether Bing will be able to grow over time.
"The June move wasn't material enough to make any definitive statements as to whether Bing is a search market share game changer," wrote Citigroup analyst Mark Mahaney in a client note. "We continue to view Bing as a very solid product, but one facing a very large uphill battle."
Eyes on the prize. Over the long haul, many think Bing can begin to chip away at Google's dominance and perhaps challenge Yahoo's second-place status.
"Bing, in terms of interaction design, is a leap forward," said Susan Feldman, search engine analyst at IDC. "I think it will gain market share, but that depends mostly on Microsoft's marketing as opposed to its technology. It's easy to switch, but hard to get people to change their habits."
To really challenge Google, some argue that Microsoft will need to partner with Yahoo. The back-and-forth dance has never materialized, but both companies have said they are receptive to a deal.
Aggarwal said Bing's, at least temporary, success will help move along a Microsoft-Yahoo search arrangement. Though he no longer believes the companies will strike a deal before they announce quarterly financial results at the end of the month, he said a tie-up is still imminent.

Features

These Fortune 100 employers have at least 350 openings each. What are they looking for in a new hire? More

It would be the world's second-biggest economy. See how big companies' sales stack up against GDP over the past decade. More