Rivals band together to boost business
To survive the recession, some business owners are turning to unusual partners: their competitors.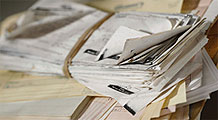 From sloppy accounting to poor hiring, here are the business-killing traps that every entrepreneur must avoid.
WASHINGTON (CNNMoney.com) -- When Christine Saunders saw her Southern California floral design company's revenue dip last fall as the economy sputtered, she realized that creating products for do-it-yourself brides might spur sales. But the owner of The Spiraled Stem Floral Design didn't want to carry the expense and burden of treading into this unfamiliar market alone.
So she asked a direct competitor, Dawn Hansen of Lavender Hill Wedding and Event Floral, to help her with the initiative. Admittedly, it was a tough sell. "No one wants to teach their customer how to do their job," Saunders said. And doing it with a competitor seemed even more absurd -- at first.
But extreme times call for extreme measures, and in January the two launched Flower DIYvas, a new business that offers floral design workshops and instructional videos for frugal brides. A mutual commitment to the project and a 20-page agreement cement the union. The reluctant instructors now teach brides the tricks of making good selections at the Los Angeles flower market and cleaning, cutting and assembling their finds into bouquets and decorations.
The florists are among a growing number of small business owners who are rethinking their relationships with competitors and banding together to survive the recession. Shared distribution channels, referral agreements, subcontracting, joint ventures and other partnerships are cropping up among rivals. Mutual benefits -- plus some carefully crafted legal agreements -- keep things friendly.
"We are at the most dynamic moment in American business strategy since the mobilization before World War II," said Adam Werbach, global CEO of Saatchi and Saatchi S, a strategic consulting firm. "Every company has taken a red pen to their business plan or is taking it now. The kind of cocksure attitude that has prevented collaboration in the past is gone."
In order for these types of partnerships to emerge, managers have to overcome the fear associated with broadcasting their problems. "Transparency is a precursor to collaboration," says Werbach, the author of Strategy For Sustainability: A Business Manifesto. "You have to be able to say, 'I have a problem. Do you have a solution? Do you have a similar problem? Can we solve it together?'"
Teaming up
That's exactly what Margaret Blohm, founder of Margaux & Associates, and the owners of three other local firms did when they joined forces to pursue larger contracts in Dearborn, Mich., a city reeling from massive auto industry job losses and widespread foreclosures.
Individually, Blohm and her collaborators offer an overlapping array of public relations services and compete for the marketing dollars of small and mid-sized businesses. Together, they beat out eight companies, including full-service advertising agencies, to win a $350,000 city contract to promote home ownership among the area's young professionals and empty nesters.
"By collaborating, we were going to get work we probably weren't going to get on our own," Blohm said.
After winning the bid for the "Welcome Home Dearborn" campaign, they formalized their collaboration by setting up Studio 313, an LLC for the shared work. They penned an operating agreement that gave each contributor a 25% ownership stake and spelled out what would happen if any party was unable to fulfill their prescribed duties.
Their quote for the city detailed the project's time and material costs in great detail, so the revenue split among them was clear from the outset. They met weekly and hired a part-time project liaison, separate from the individual firms' employees, to keep things on track. Although they collaborate successfully on larger projects, the partners maintain their own clients, safeguard proprietary information, and are careful to avoid any conflicts of interest.
Companies don't have to launch a new business to form a team of rivals. In Medford, N.J., Anthony Mongeluzo of Pro Computer Service and Steven Klasky of Computer Paramedic work together with little more than a handshake. Both provide IT support services, but Mongeluzo also offers Web and software development services, which Klasky upsells to his clients. In exchange, Mongeluzo gives Klasky a commission and agrees not to pursue or accept technical support work from shared clients.
The gentlemen's agreement has paid off. "He's actually closed $10,000 in business for us so far, and we have some things on the table that are north of six figures," Mongeluzo said. "He walks us into the door of the decision maker because he's already a part of their team."
Common values
Tim Berkesch, the director of sales for Vector Displays, a Decatur, Ga.-based tradeshow exhibit maker, said tough economic times have made collaborations among presumed competitors easier because turnover often sends one-time coworkers to different companies in the same industry. They know each other well, and have a baseline level of trust and mutual respect.
"One competitor we deal with, the president and I worked together at a firm and then he left and started his own and then I left and helped start this one," he said. "He was a natural person to go to."
Beyond personal compatibility, collaborating businesses must bring complementary strengths to the table. For example, Vector's prominent Web presence generates leads that one of its competitors covets. But the competitor excels at managing exhibits that must be set up, taken down, refurbished and stored between shows at various sites over many months, a line of work that Vector doesn't have the warehouse space to handle. By bidding on projects together or sharing leads, both parties benefit by landing jobs they wouldn't have won otherwise.
In Morrisville, N.C., Montie Roland of Montie Design swaps projects regularly with local rivals.
"You can imagine if you get a huge project and you're fully occupied when another clients walks up to your door," says Roland, who runs a seven-person product design firm. "You risk the relationship with that client by saying 'no, we can't do it,' so you involve a competitor transparently."
To make such arrangements work, both firms have to discount their usual hourly rate and agree to protect the client's data. A non-disclosure agreement is critical, Roland said, as is putting deadlines and payment agreements in writing.
Still, nothing beats integrity and professionalism. "The biggest thing you want to have on the table is character," he said. "If you have a relationship, then everything else is easier. It's difficult to write character into a contract."

To write a note to the editor about this article,
click here
.