Google sees signs of stabilization
The Internet search giant reports profits and sales that beat Wall Street's expectations in a tough quarter.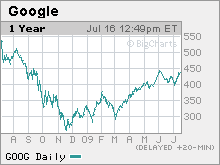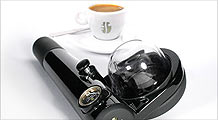 Unplug your adventures with off-the-grid gadgets.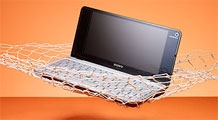 Netbooks are models of portability. But can you stare at those little screens all day? Our reviewer put three to the test.
NEW YORK (CNNMoney.com) -- Google said Thursday it was seeing signs of stabilization in what has been a very rough advertising environment.
Consumers are still spending less than they were before the recession, but at least they are clicking around and searching for deals, according to Eric Schmidt, the Internet search giant's chief executive. Compared to the same quarter last year, Google reported an increase in the number of clicks, but the cost per click was down.
Schmidt was speaking to analysts on the company's conference call following second-quarter results that beat Wall Street's forecasts.
Net income for the three months ended June 30 rose 19% to $1.48 billion, or $4.66 per share, compared with $1.25 billion, or $3.92 per share, for the same period a year ago.
Without one-time charges, Google (GOOG, Fortune 500) reported earnings of $5.36 per share. Analysts polled by Thomson Reuters, who typically strip out special items from their forecasts, were looking for $5.09 per share.
One analyst said that Google was able to manage such profits due to a lower-than-expected tax rate. Trip Chowdhry, the managing director of Global Equities Research, said in a research note that most analysts were making their estimate based on a 25% tax rate, but Google said its effective tax rate was 20% for the quarter.
Sales rose 3% to $5.52 billion from $5.37 billion for the year ago period. Excluding commissions paid to advertising partners, sales totaled $4.07 billion, which beat analysts estimates of $4.06 billion.
"Google had a very good quarter, especially given the continued macro-economic downturn," Schmidt said in a written statement. "These results highlight the enduring strength of our business model and our responsible efforts to manage expenses in a way that puts us in a good position for the economic upturn, when it occurs."
Analysts were more conservative about the modest uptick in sales that Google posted. Even as the sales edged up in the quarter, Chowdhry said that for the last seven quarters, "growth rates of Google have continue to decline."
Google's head count dipped modestly in the quarter. The company had 19,786 full-time employees around the globe as of June 30, which was 378 employees less than it had at the end of the first quarter. Executives said on the conference call that this decrease was primarily due to previously announced reductions and that Google was currently hiring.
Ad sales account for almost all of Google's revenue. In the fourth quarter of 2008, the company posted its first-ever quarterly profit drop, as it was hard hit by a pullback in advertising dollars during the recession.
Shares closed up $4.43 to $442.60 in regular session trade, but in after-hours trade, they fell 3%.
There were signs that the Google's primary source of revenue was slowing. The number of paid clicks, which include clicks on ads served on Google sites and its partners, increased approximately 15% over the second quarter of 2008 but fell 2% over the first quarter. And the cost-per-click was down 13% from the same time a year ago, but rose 5% from the first quarter of 2009.
Even if consumers are spending less, the fact that they are clicking is a sign of stabilization, according to Schmidt. "A quarter ago, we had no idea where the bottom was," he said. "Starting roughly Christmas, it became clear that people were spending more time searching and when they did purchase things, they were spending less."
"We are not at the moment, looking at that downward spiral that we thought we were 6 months ago," Schmidt said.
Nikesh Arora, Google's President of Global Sales Operations and Business Development, said that there have been signs of improvement in the advertising sector, too.
"The small advertisers have stayed fairly consistent," Arora said on the conference call. "Large advertisers have wanted to watch and wait for a while and are now coming back to the table," which given Google's current dependence on its advertising revenue stream is a positive.
The company remains the dominant Internet search leader, with 65% of market share in June, according to a report released Wednesday by online data tracker comScore. Yahoo (YHOO, Fortune 500) is holding steady in second place, with 19.6%, of the market, and Microsoft's (MSFT, Fortune 500) new search engine, Bing, scooped up 8.4%.
As Microsoft steps into Google's domain, Google is also venturing into what has traditionally been Microsoft's dominant domain: operating systems.
Google unveiled its Internet-based Chrome OS last week, but some analysts think that it could be a while longer before computer users are ready to make the switch en masse. Chrome won't be ready to launch until the fall of 2010, and its first target is netbooks.
Some analysts question how Google plans to make money back from all of the money it is spending to research and develop this new technology.
Schmidt said that as long as the new technology drives people to the Internet, it doesn't have to necessarily pay for itself. There are numerous products that Google has offered without charging. "We do not require each project to be profitable," he said, but if the product is "making the Web a better place," then ultimately, he said, that is good for Google.
Analysts doubted Google's approach. "New innovation from Google is exciting, but without a business model next to it, it is pretty much a non-event," said Chowdhry. "Its innovation in vacuum."

Features

These Fortune 100 employers have at least 350 openings each. What are they looking for in a new hire? More

It would be the world's second-biggest economy. See how big companies' sales stack up against GDP over the past decade. More