Crocs lose their footing
Comfy and durable, Crocs have carved out a niche in the footwear market. Unfortunately, the brand may not outlast the shoes.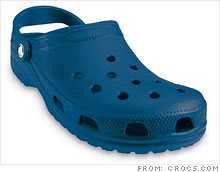 NEW YORK (CNNMoney.com) -- In the last five years, Crocs have become ubiquitous, stepping onto the red carpet and the black top of every playground across the country. But that meteoric growth may be what leads the company to its downfall.
Crocs, which debuted as a public company on Feb. 13, 2006, in an offering that raised $207.9 million, has seen its stock price plummet over the course of the last two years from more than $70 a share to about $3 a share.
Fewer orders from third-party retailers and oversupply at its own freestanding stores have left the company with a bloated inventory, while knock-offs and discounting have also hurt its bottom line.
Chief Executive John Duerden, who came on board in March to reignite the struggling brand, says the company can regain profitability -- even though declining demand and increasing inventory have forced it to cut jobs and close production plants.
"We've taken action to address those challenges, including aligning our production capacity to meet demand, reducing our overhead expenses and the size of our workforce, and paying down debt," Duerden said in a statement Thursday.
But despite the operational changes, Crocs is also fighting an image problem. Although there are now 120 styles of Crocs, the overall appeal is waning. As with any fad, once it falls out out of favor it will be hard to regain enough cool status to sustain a $252 million company.
"I love Crocs for kids," said mother of two Anne Mclane. "My 4-year-old pretty much won't take them off all summer. I know some adults who wear them, but they are not my taste."
Even though they remain relatively popular, the Croslite clogs may be destined to suffer the same fate as another once-hot apparel maker Eddie Bauer, which filed for Chapter 11 recently after the recession dragged down its sales.
Making matters worse, Crocs' $30 chunky shoes are designed to be comfortable and, more importantly, durable -- meaning that even the most loyal fans may not need to buy replacements for their trusty Crocs anytime soon.
Some analysts believe that while the company maintains a viable business model, it could take years for Crocs to become profitable again.
"The company can remake its business and offer both meaningful profitability and stock gains," Jeff Mintz, an analyst with Wedbush Morgan Securities, said in a recent report. But "the current environment makes it difficult to quickly turn around a flagging brand."

To write a note to the editor about this article,
click here
.