Business loans not just CIT's problem
After holding steady in recent quarters, commercial loan losses are on the rise at small regional banks as well as heavyweights like Citi and JPMorgan Chase.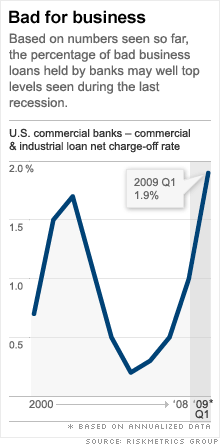 Photos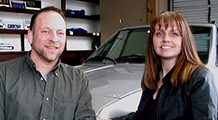 NEW YORK (CNNMoney.com) -- Want a sense of how the typical American company is faring these days? Look no further than the balance sheets of the nation's banks and lenders.
Small business lender CIT Group (CIT, Fortune 500) has been the highest profile case of how problems in the commercial loan market are wreaking havoc on finance firms. The New York City-based specialty lender teetered on the brink of bankruptcy before managing to secure last-minute financing from its bondholders on Monday.
But CIT is far from being alone. Banks of all sizes across the U.S. are facing difficulties due to souring commercial loans.
Two smaller regional lenders - S&T Bancorp (STBA) of Indiana, Pa. and the Houston-based Sterling Bancshares (SBIB) - both took charges in the second quarter on loans made to companies in the energy industry. Many energy firms were hit hard when oil prices plunged during the second half of 2008.
Farther up the banking food chain, JPMorgan Chase (JPM, Fortune 500) revealed last week that the value of non-performing loans in its commercial banking division, which caters to other large corporations as well as municipalities and not-for-profits, more than quadrupled to $2.26 billion from $510 million during the same period a year ago.
Unlike residential real estate and other consumer-related loans, banks' commercial and industrial loan portfolios have remained relatively trouble-free so far. But with the country still in the throes of the recession, there are fears that banks' commercial loan portfolios could be another, albeit less painful, problem for lenders.
"I don't think it should surprise anyone that we are just now starting to see stress," said Terry McEvoy, an analyst for Oppenheimer & Co.
Mixing it up
Commercial loans are not a major source of concern just yet. Based on the most recent industry-wide data published by the Federal Deposit Insurance Corp., only 1.82% of all the outstanding commercial and industrial loans, were considered uncollectable by banks.
But that number has been rapidly rising lately and is now within striking distance of the recent highs reached during the last two recessions of 1991 and 2001. The net charge-off rates for commercial loans hit 2.37% in 2001 and 2.6% in 1991 .
Experts say banks have worked hard to diversify their corporate loan portfolios, taking care not to become too concentrated in any one particular sector, like aircraft, energy or retail. That may be one reason why commercial loan losses have not exceeded the levels from the prior downturns.
"It is across a pretty broad spectrum," said Fred Cummings, a former bank analyst and president of the hedge fund Elizabeth Park Capital Management in Beachwood, Ohio. "That is what gives you some comfort."
Still, some experts point out that the current recession is touching so many different parts of the economy that banks' diversification efforts may only insulate their balance sheets so far.
More than 14,000 companies filed for bankruptcy in the first quarter of this year according to the American Bankruptcy Institute.
Since then, there have been many more bankruptcies, including from some of the most widely-recognized names in corporate America, such as auto companies General Motors and Chrysler, amusement park operator Six Flags and retailer Eddie Bauer.
Banks typically get hit hard when a company they've loaned money to goes bankrupt since many commercial and industrial loans are unsecured. As a result, banks are sometimes forced to write off bigger portions of the loan should borrowers default than they would with a real estate loan, which might be secured with collateral like a piece of land or a home.
At last count, the amount of outstanding commercial and industrial loans held by U.S. banks stood at just under $1.5 trillion, according to recent figures published by the Federal Reserve.
Most of those loans, however, tend to be concentrated within regional banks as well as some of the nation's largest lenders such as JPMorgan Chase, Citigroup (C, Fortune 500) and Wells Fargo (WFC, Fortune 500). All of these banks have aggressively set aside money for future loan losses in recent quarters.
Determining the scope of those losses, however, is anyone's guess.
In a report published last month, credit rating agency Moody's warned that of the $415 billion in charge-offs the U.S. banking industry is expected to take during the second half of this year and in 2010, $53 billion is expected to come from commercial and industrial loans.
But Kevin Mixon, an analyst with RiskMetrics Group, maintains that the figure will ultimately be at the mercy of the broader economy and how quickly it bounces back.
"Until the economy really starts to recover, it is unlikely those [losses] will start to moderate," he said.

Features

These Fortune 100 employers have at least 350 openings each. What are they looking for in a new hire? More

It would be the world's second-biggest economy. See how big companies' sales stack up against GDP over the past decade. More