TARP cop wants bank accountability
Neil Barofsky says a lot could go wrong with bailouts. He wants better disclosure and stronger conflict rules, and sparks controversy over the total cost.
Bailout tracker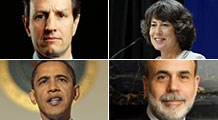 The government is engaged in a far-reaching - and expensive - effort to rescue the economy. Here's how you can keep tabs on the bailouts.
More
WASHINGTON (CNNMoney.com) -- The oversight czar tracking the $700 billion bailout told lawmakers Tuesday that he's concerned officials are not doing enough to prevent tax dollars from being wasted or pilfered.
Neil Barofsky, the special inspector general overseeing the Troubled Asset Relief Program, testified before the House Oversight and Government Reform committee.
Barofsky was being questioned about a controversial tally he published in a report released Monday. The report tallied all federal rescue efforts, including many far beyond Barofsky's realm, at an eye-popping $23.7 trillion.
Treasury officials dispute that figure and call it "inflated."
Generally, Barofsky criticized the Treasury Department for what he says is its unwillingness to adopt some of his earlier recommendations.
For example, Barofsky said he wants Treasury to require banks to report exactly how they're using their bailout dollars. He pointed out that Treasury does this with a handful of other companies that have received extraordinary federal help.
He also wants Treasury to report the actual worth of the assets it has purchased via the bailout.
"If it's a meaningless exercise, then why are you doing it for Citigroup, Bank of America and AIG?" Barofsky said.
Lawmaker support: Lawmakers agreed they also want more disclosure.
In his opening statement, the panel's chairman, Rep. Ed Towns, D-N.Y., expressed frustration at federal regulators' relationship with Wall Street, calling it "a bit too cozy."
"In short, the taxpayers now have a $700 billion spending program that's being run under the philosophy of 'don't ask, don't tell,' " Towns said.
Barofsky wants Treasury to force bailout recipients to keep track of how exactly they are spending TARP funds. He also wants officials to erect a "firewall" to prevent private investment managers -- the kind hired to manage and invest taxpayer dollars -- from taking advantage of insider knowledge.
The special IG's office, which was established as part of the TARP program enacted last fall, has also launched 35 criminal and civil investigations into a range of allegations from accounting and securities fraud to insider trading and public corruption, the report said.
Some of Barofsky's investigations have already led to criminal and civil charges against those accused of fraudulently benefiting from the government's bailout program.
Disputed total: Some lawmakers seized Monday on Barofsky's $23.7 trillion rescue program total.
Yet, the aggregate figure contains programs that the government is no longer on the hook for. For example, it includes a $12.9 billion bridge loan to JPMorgan Chase to buy failed investment bank Bear Stearns in March 2008 -- that loan was repaid in full with taxpayers making $4 million in interest.
A Treasury official on Monday called the $23.7 trillion figure "inflated," saying it ignores fees and interest that regulators collect to compensate taxpayers for taking on risk.
Barofsky said he took offense at Treasury's accusations that his figure was inflated, saying that he got the data from Treasury and Federal Reserve's Web sites.
"What this attack is is a challenge to the basic transparency that we try to provide in this report ... so the government understands in total what's going on," Barofsky said.
Several lawmakers also expressed their continued support that Barofsky and his group remain an independent agency, one that works within Treasury but is answerable to Congress, not the Treasury Secretary.
Treasury is challenging what government entity to which the TARP special investigator reports, since most inspector generals report to the head of the agency they review.
The Department of Justice has been asked to weigh in, and is still looking into the matter.
But Barofsky said reporting to Treasury Secretary Timothy Geithner could threaten his ability to do his job.
"If we fit within that scheme, the Secretary of the Treasury has the ability to shut down an investigation," Barofsky said. " I think that would be a direct threat to the reason why we were created."

Features

These Fortune 100 employers have at least 350 openings each. What are they looking for in a new hire? More

It would be the world's second-biggest economy. See how big companies' sales stack up against GDP over the past decade. More