Chrysler: Washington meddling could kill us
Lawyer testifies before congressional committee of dire consequences of being forced to renew contracts.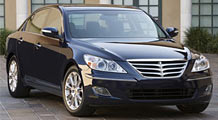 Successful new model launches are critical for car companies. Here are five that worked and five that didn't.
Find your next Car

NEW YORK (CNNMoney.com) -- A Chrysler Group executive, testifying before a congressional committee hearing on Chrysler and General Motors' auto dealership cuts, warned that being forced to reinstate dealers could force Chrysler out of business.
The House of Representatives recently passed a bill that would require GM and Chrysler to reinstate the contracts of dealers that were recently dropped as part of their separate bankruptcy proceedings.
Louann Van Der Wiele, Chrysler Group general counsel, testified Tuesday before a sub-committee of the House Judiciary Committee. She warned that forcing Chrysler to reinstate the 789 dealer contracts it had left behind in bankruptcy court earlier this year would force "new" Chrysler into bankruptcy again. This time with no buyer to bail the company out.
"Complete liquidation, with all of its dire consequences, could follow," she said, according to a transcript of her testimony.
Auto dealerships are separate businesses from auto manufacturers. Both GM and Chrysler have argued that having too many dealerships has hurt profitability by spreading sales too thinly and forcing dealers to compete with one another.
Chrysler announced in May that it was cutting off business ties with 789 dealerships, or about a quarter of its dealer network. According to Chrysler, the dealers being cut off accounted for only a fraction of the automaker's actual sales.
Later, GM announced that it was severing ties to 1,100 of its 6,000 dealers.
While both GM and Chrysler have been working for years to trim their dealer networks, it's usually a process that requires individual negotiation with each dealership and often hefty buy-out fees to end a contract. That's because dealers are usually protected by strong state franchise laws.
Bankruptcy court allowed both GM and Chrysler to avoid those negotiations. The new companies that took over the Chrysler and GM names and businesses simply declined to purchase the unwanted dealer contracts as part of the new company's assets.
A bill similar to the one the House passed faces stronger opposition in the Senate where Majority Leader Harry Reid said earlier this week the measure is not a priority.
President Obama has also voiced opposition to the bill, saying it would derail the administration's hard work to save GM and Chrysler.

Features

These Fortune 100 employers have at least 350 openings each. What are they looking for in a new hire? More

It would be the world's second-biggest economy. See how big companies' sales stack up against GDP over the past decade. More