Health care's future may already exist
Insurers are testing a concept called 'medical home' that could transform how health care is delivered.
Photos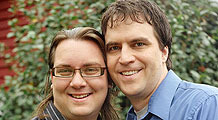 NEW YORK (CNNMoney.com) -- It's time for your 2015 annual physical.
But your family doctor already knows all your vital readings from the self-tests you administered.
If she sees any problems, she'll send your electronic records to a specialist and coordinate the way you're treated. And the two of them will send periodic e-mail reminders of what you need to do to stay healthy.
This health care concept, called "patient-centered medical homes," could improve the overall quality of care, and save consumers time and money. But skeptics maintain that the financial savings aspect still has to be proven.
The model is already being tested in 44 states -- with such big health insurers as UnitedHealthcare, Aetna and Medicaid taking part -- and utilizes key components of President Obama's reform effort
In medical homes, the family physician is like a personal health coach, responsible for managing all aspects of the patient's health care needs, explained Paul Keckley, executive director of Deloitte Center for Health Solutions, a unit of consulting firm Deloitte LLP.
The doctor also leads a team of coaches -- including nurses, pharmacists, nutritionists and other medical professionals -- with the aim of providing a more "holistic" approach to health care.
Round-the-clock access, electronic health records, use of e-mail and phone communication, patient feedback, fee for service and fee for performance are all central to this concept.
The concept is about meaningfully changing the daily habits in a "population of chronic diseases," Keckley said, and "to do that you have to coach people and constantly manage and track their care through text message reminders, counselors and support groups."
Eventually, a healthier population would reduce the number of medical procedures and costly hospital admissions, potentially lowering consumers' insurance premiums.
Interest grows: Enthusiasm about medical homes is picking up, but only gradually.
There are 27 medical home demonstration programs -- collaborations between purchasers, providers and payers -- underway around the country, according to the Patient Centered Primary Care Collaborative (PCPCC), a trade group that's spearheading the medical home movement.
Medicaid has pilot programs in 31 states while Medicare is gearing up to launch eight demonstration programs, said Edwina Rogers, executive director of the PCPCC,
Rogers said major corporate purchasers of health insurance, which account for about 60% of total U.S. health care spending, are driving insurers to participate in pilot programs in the search for lower-cost alternatives.
One of those companies, IBM (IBM, Fortune 500), has been working with UnitedHealthcare on a medical home initiative in Arizona.
"We like to say that we have 458,000 reasons why we like medical homes," said Dr. Paul Grundy, IBM's director of health care, technology, and strategic initiatives, referring to the company's total workforce, retirees and dependents receiving benefits. The nation's fourth-largest U.S. private sector employer spends about $1.3 billion annually in health care-related costs.
"We can buy an amputation for a diabetic, but we can't buy care that prevents that situation," Grundy said. "Corporations are half the (health care) spend. We have to rally together to change that model. We have seen in pilots that if we focus on prevention, we really begin to see results."
He cited the Geisinger Medical Home Initiative in Pennsylvania that tested a medical home pilot in 2006 -- and found a nearly 8% reduction in hospital admissions among Medicare patients assigned a medical home and a 4% reduction in medical costs in the first year.
Skepticism remains: Dr. Howard McMahan, a primary care physician based in Ocilla, Ga., is on the fence about transforming his practice into a patient-centered medical home.
"I do absolutely think that this is the future model of health care. But it's viable only if payment reform happens in the system," McMahan said.
Right now, doctors are not reimbursed for things such as e-mail or phone communication with patients, and there's no incentive based on quality of care provided.
"I don't learn as quickly as I used to," said McMahan, who has practiced for 26 years. "I think the medical home model is doable, but you have to provide physicians the necessary cash flow, training, and IT and ancillary services to make it a success."
Deloitte's Keckley also said there's a costly initial investment tied to technology adoption. And he said most physicians are trained to work independently and not necessarily as part of a team, so there's additional training required for doctors to act as coordinators and managers.
Politics could stymie the progress as turf wars erupt. "The fear of specialists is that primary care physicians will become too powerful," Keckley said.
Hospitals have also largely been silent on medical homes. "This is the yin and the yang of the model," said IBM's Grundy. "Hospitals are paid to get their beds filled."
Experts also said the shortage of primary care providers could delay adoption of the medical home.
"And the return on investment on this model is not three to four years but 10 to 15 years," said Keckley. "But the long-term savings it offers are exactly the discussions we're having around health care reform right now."
Insurers on board: The insurance industry says it backs medical homes.
"In essence, this model is what we've always supported," said Susan Pisano, spokeswoman for America's Health Insurance Plans, the trade group representing private insurers. "Individual patients do better with an ongoing relationship with their physician."
However, Pisano said insurers "need to make sure that we're not looking at a one-size-fits-all model of medical homes but that we look at a number of different approaches for payment and reimbursement."
If reform doesn't pass, Dr. Robert Berenson, a health care expert with public policy group Urban Institute, still believes that small changes to care delivery will happen, but the medical home model "will be a long way off from becoming the dominant model."
"The concept makes a lot of sense but we can't get through with just marginal and incremental changes," Berenson said. "Health reform will produce a major commitment to test a number of approaches to medical homes so that in five years we could get a major expansion of this model."

Features

These Fortune 100 employers have at least 350 openings each. What are they looking for in a new hire? More

It would be the world's second-biggest economy. See how big companies' sales stack up against GDP over the past decade. More