Round 3: More help for homeowners
As joblessness soars, more Americans are losing their homes. The Obama administration meets with loan servicers to find out why mods are delayed.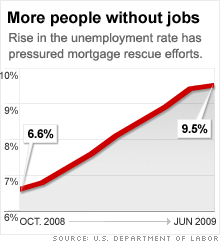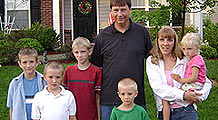 Homeowners in trouble are having mixed results applying for President Obama's foreclosure prevention plan. CNNMoney.com readers tell us their tribulations and triumphs trying to get their loans modified or refinanced.
NEW YORK (CNNMoney.com) -- As a growing number of Americans default on their mortgages, the Obama administration is set to meet Tuesday with industry executives to discuss their efforts so far to help people save their homes.
The administration wants answers about borrower complaints of lost paperwork, unreturned phone calls and a lack of decisions on applications.
The administration is also floating new ways to help people avoid foreclosure, including giving the unemployed money, in the form of grants or loans, to cover their mortgage payments or allowing them to remain in their homes as renters after foreclosure.
The plans to address the problems of the unemployed remain in the formative stage and are likely to encounter resistance in Congress.
The expanding unemployment rolls have long vexed policy makers focused on stabilizing the housing market. Existing foreclosure prevention programs, including those such as the president's loan modification plan, generally do not help the jobless because they don't have enough income to sustain even reduced monthly payments.
"Unemployment is making the job of doing loan modifications more difficult," William Apgar, a Housing Department senior adviser, told a congressional committee last week. "We are exploring other options related to how to provide assistance to unemployed folks."
Treasury and Housing Department officials declined to comment further.
Unemployment problem
The mortgage meltdown originated when subprime borrowers started defaulting in large numbers after their adjustable-rate mortgage payments spiked. Now, however, it is being fueled by rising unemployment, which is causing a growing number of borrowers with good credit to default. The unemployment rate is 9.5%.
More than 1.5 million homes received at least one foreclosure filing in the first six months of 2009, up nearly 15% from the same period a year ago, according to RealtyTrac. Unemployment-related foreclosures account for much of this increased activity.
Prevention efforts, including President Obama's plan to reduce monthly payments for eligible borrowers to no more than 31% of their income, are failing to stem the tide. That's why the administration needs to go beyond loan modifications, experts say.
"Loan modifications will not reduce by any sizable amount the number of homes going into foreclosure," said Morris Davis, an assistant professor at the Wisconsin School of Business, who estimated in May that 10% unemployment would cause 1.9 million borrowers to default.
To combat this rise, Davis advocates temporarily giving the jobless a housing voucher with their unemployment check. The amount would depend on the housing costs for the area. The benefit would stop when unemployment returns to "more normal levels."
It would cost $62 billion if aid is given to all the jobless, including renters, and $13 billion if given only to homeowners. The initiative would save 885,000 homes from going into foreclosure, Davis said.
Davis' plan is similar to one proposed by several Federal Reserve economists earlier this year. That plan suggests assisting those who have a loss of more than 25% of their income and whose homes are worth less than their mortgages. These people could get help either in the form of grants or loans, and the government share of the mortgage payment would equal the percentage of income lost.
The benefit would stop after two years or when the homeowner's income stream recovers. The program could cost $50 billion if grants were given and significantly less if aid were in the form of loans.
Another goal of both plans is to get help to troubled borrowers without going through loan servicers, who are now struggling to handle a flood of loan modification applications.
"If you think the overriding goal is to stop foreclosures, this would be an effective way to do it," said Paul Willen, a senior economist with the Federal Reserve Bank of Boston and co-author of the Fed economists' proposal.
Legislation being readied
To get the ball rolling in Congress, Sen. Jack Reed, D-R.I., plans to introduce a bill that calls for providing mortgage assistance payments to the unemployed through state housing finance agencies.
"This is a way to provide support for people who, though no fault of their own, have seen their job vanish and their house in jeopardy of foreclosure," Reed said in an interview.
The funds, which could be in the form of grants or loans, would go only to homeowners who have reasonable prospects for re-employment. Others could get money for relocation. The state agencies would determine who would qualify and what form the aid would take.
Reed's program is similar to one he introduced in 2007, which focused only on helping delinquent homeowners cover arrears. That plan would have cost $260 million. He has not yet determined the cost for the updated initiative, which would allow borrowers to use the money for future payments.
A new foreclosure prevention program, however, could have a tough time getting through Congress. Some lawmakers see these efforts as a waste of money since they have low success rates.
"Any measures taken to help people avoid foreclosure will only prolong the pain by using taxpayer money to prop up unsustainable mortgages," said Kurt Bardella, press secretary for California Rep. Darrell Issa, the top Republican on the House Committee on Oversight and Government Reform.
"The best thing we can do for the unemployed is adopt policies that will create jobs," Bardella said.
How has President Obama's $787 billion stimulus program affected you or your community? Are you seeing a benefit from the Making Work Pay tax cuts or the additional $25 in unemployment benefits? Are you seeing construction jobs or other stimulus-funded work in your neighborhood? Do you still have a job because of stimulus funds? We want to hear your experiences. E-mail your story to realstories@cnnmoney.com or send in an iReport and you could be part of an upcoming article. For the CNNMoney.com Comment Policy, click here.

Features

These Fortune 100 employers have at least 350 openings each. What are they looking for in a new hire? More

It would be the world's second-biggest economy. See how big companies' sales stack up against GDP over the past decade. More