Treasurys dip after auctions
Government sells $6 billion in TIPS and $27 billion in 3-month notes in the first of $200 billion worth of auctions this week.
Bailout tracker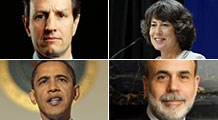 The government is engaged in a far-reaching - and expensive - effort to rescue the economy. Here's how you can keep tabs on the bailouts.
More
NEW YORK (CNNMoney.com) -- The U.S. government began a record weekly sale of $200 billion in Treasury debt Monday with two issues that met solid demand.
Bond prices rose slightly just before the auction results were released but retreated in afternoon trade.
The Treasury sold $6 billion in 20-year Treasury Inflation Protected Securities, or TIPS. A total of $13.5 billion worth of bids were submitted for the $6 billion offering of TIPS. That made for a bid-to-cover ratio of 2.27. A ratio above 2 is considered a reflection of healthy demand.
Also Monday, the government sold $29.6 billion in 3-month bills, which brought in more than $106.5 billion worth of bids.
The auctions were the first of seven to be held this week. The government will offer a total of $109 billion in 2-, 5- and 7-year notes. It will also auction $90 billion in 52-week, 3- and 6-month bills.
Tuesday brings an auction of $42 billion in 2-year notes and $27 billion in 52-week bills. The government will offer $39 billion in 5-year notes and $28 billion in 7-year notes Thursday.
"I expect a very quiet afternoon as the market gets ready for the 5- and 7-year auctions later this week," said Ron Mark, a fixed-income trader at BMO Capital Markets.
While analysts expect this week's auctions to go well, there is concern that the growing supply of Treasurys could eventually overwhelm demand as the United States continues to offer massive amounts of debt each month.
Uncle Sam sold $104 billion worth of Treasurys in June and $101 billion in May. The auctions come as the government seeks to revive the economy and fund a growing budget deficit.
"There's a lot trepidation going into these auctions," said Kim Rupert, fixed-income analyst at Action Economics. "But I don't think this will be the bunch that gives the market indigestion."
Rupert said the last round of auctions was relatively well received, and that demand from overseas buyers has remained healthy.
Additionally, the majority of this week's auctions are for shorter-dated maturities, which are considered more liquid and have seen strong demand recently.
Meanwhile, the stock market has soared over the last two weeks, lifted by stronger-than-expected corporate earnings.
The rally on Wall Street has encouraged many investors to sell bonds and seek higher returns in riskier assets, such as stocks and corporate bonds.
Monday, however, Wall Street was quiet, with all three major indexes ending the session little changed.
Bond prices: The benchmark 10-year note was down 16/32 to 95-5/32 and yielded 3.73%, up from 3.67% Friday. Bond prices and yields move in different directions.
The 30-year bond fell 1-9/32 to 93-31/32 and yielded 4.63%.
The 2-year note dipped 2/32 to 100-6/32, and its yield was 1.04%.
The 3-month bill yielded 0.19%.

Features

These Fortune 100 employers have at least 350 openings each. What are they looking for in a new hire? More

It would be the world's second-biggest economy. See how big companies' sales stack up against GDP over the past decade. More