'Say on pay' moves full speed ahead
Experts think legislation allowing shareholders a vote on compensation will sail through Congress, but questions remain about whether new rules will work.
Photos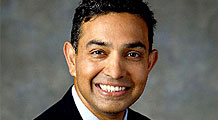 NEW YORK (CNNMoney.com) -- It may not be long before shareholders have more control over how much money top executives across the country make.
This week, both the Senate Banking Committee and the House Financial Services Committee are tackling the issue of "say on pay" -- which would allow investors to vote on compensation packages. Experts think Congress could soon pass such legislation and have it on President Obama's desk as early as this fall.
"Unless there is something that takes executive compensation out of the headlines, I think it is likely these provisions will become law," said Michael Melbinger, a lawyer at Winston & Strawn, who serves as chair of the firm's executive compensation practice.
From exorbitant salaries to outsized bonuses, corporate compensation practices have remained a lightning rod of criticism from lawmakers and taxpayers for much of this year.
Two weeks ago, Goldman Sachs (GS, Fortune 500) was roundly panned amid speculation that it was considering paying its employees some of the largest bonuses on record, despite having accepted $10 billion from the Treasury Department's Troubled Asset Relief Program, or TARP, last fall. (The investment bank has paid the government back, however.)
Earlier this month, outrage over bonuses paid out by bailed-out insurer AIG (AIG, Fortune 500) bubbled back to the surface after The Washington Post reported that AIG was seeking the government's consent to make a scheduled performance bonus payment of $2.4 million to 43 of its top-ranking executives.
A handful of different Democratic proposals on executive compensation reforms are currently making the rounds on Capitol Hill, including one from the White House that was delivered to Congress just two weeks ago.
Under the Obama plan, shareholders would get an annual non-binding vote on compensation packages for top executives at all publicly-traded companies.
Companies would no longer be able to load up their compensation committee, which is responsible for setting pay packages for senior management, with sympathetic board members. Instead, companies would be required to fill those positions with independent directors who are looking out for the interest of shareholders.
This and similar proposals from lawmakers have run into resistance from business industry groups like the Business Roundtable and U.S. Chamber of Commerce. But few doubt that Republican members will put up much of a fight against them considering that many Americans remain angry about financial bailouts.
Will it work?
If a bill is passed, the U.S. would be the latest nation to adopt the notion of "say on pay." In 2002, the United Kingdom embraced the practice, and it has subsequently been taken up in Australia and Sweden.
Some American businesses have already adopted "say on pay" practices as well. Twenty three companies have agreed to give shareholders an annual vote on executive compensation, including Aflac (AFL, Fortune 500) and Verizon (VZ, Fortune 500), according to the advisory firm RiskMetrics. And more than 80 others agreed to take the issue under consideration at their annual shareholder meetings this year.
So far, such programs have fared rather well. One 2004 Deloitte survey of U.K. shareholders cited by the White House revealed that there has been a sharp increase in companies actively consulting shareholders on their pay plans for top executives since the U.K. approved "say for pay."
Richard Ferlauto, a leading shareholder activist who serves as director of corporate governance and pension investment at the American Federation of State, County and Municipal Employees, has taken on misaligned pay practices at some of the nation's largest publicly-traded firms. He believes the same scenario would play out among American companies.
Ultimately, firms will be forced to talk with its big shareholders about the compensation plans before their annual shareholder meeting, Ferlauto notes. That means shareholders have a better chance of getting some concessions, particularly for poorly performing CEOs.
"Right now compensation [for executives] is created in a black box," Ferlauto said. "This vote forces directors to the table with shareholders to discuss what is appropriate and what is not."
But even if the new rules are imposed, there are many unanswered questions about whether "say on pay" will have any real impact on curbing excessive compensation. Some experts have pointed out that a "non-binding" vote means board members have the right to reject investors' wishes.
David Wise, a senior executive pay consultant at Hay Group, said the opposite could happen though. Shareholders may wind up exerting too much influence over board members.
Wise said one concern is that directors could agree to slash a CEO's compensation package in order to appease shareholders -- even though that executive might have done a good job of managing the company.
And since it's important to have the most capable managers in place to lead companies out of this downturn, Wise said shareholders could be doing themselves a disservice if they go overboard and don't adequately reward top executives.
"That may not be what is in the shareholder's interest in the long run," Wise said. "If the right exec is in place you want to make sure they are being compensated competitively and fairly."
Talkback: Do you think shareholders should have a say on how much CEOs and other executives make in salary and bonuses? Share your comments below.

Features

These Fortune 100 employers have at least 350 openings each. What are they looking for in a new hire? More

It would be the world's second-biggest economy. See how big companies' sales stack up against GDP over the past decade. More