Exxon Mobil profits plunge 66%
The energy company says the weak global economy and volatile oil prices hurt second-quarter results.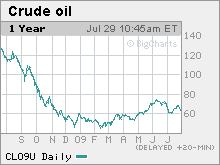 NEW YORK (CNNMoney.com) -- Exxon Mobil reported a 66% decline in second-quarter earnings Thursday as demand for energy remained weak and prices for oil and gas tumbled from last year's highs.
The world's largest publicly traded oil company said it earned $3.95 billion in the second quarter, down from $11.68 billion a year earlier. On a per-share basis, Exxon said it earned 81 cents, down from $2.22 in the second quarter of 2008.
Excluding certain items, including $140 million for interest related to the Valdez punitive damages award, Exxon said it earned $4.09 billion, or 84 cents per share, in the quarter.
The results were well below forecasts. Analysts were expecting earnings of $1.02 per share, according to Thomson Reuters.
Revenue plunged to $74.46 billion in the quarter from $138 billion a year ago. But revenue was higher than the $71.3 billion that analysts had forecast.
"Global economic conditions continue to impact the energy industry both in the volatility of commodity prices and reduced demand for products," Exxon Mobil chairman Rex Tillerson said in a statement.
Challenging times: The larger-than-expected decline highlights the challenges facing energy producers as the economic downturn curbs the world's appetite for fuel and stockpiles of crude oil continue to grow.
Oil prices averaged around $60 a barrel in the second quarter, compared with roughly $124 a barrel in the same period in 2008.
At the same time, weak demand for oil-based products has caused crude supplies to swell, which has squeezed profit margins for many refiners.
"Exxon Mobil's results so far this year reflect solid financial performance during a period of challenging market conditions," said David Rosenthal, Exxon's vice president of investor relations, in a conference call with analysts. He added that the company's "integrated business model" and "long-term orientation" will help deliver "superior results" going forward.
Earnings at the company's refining unit plunged to $512 million from $1.22 billion, while profit from oil-and-gas production division fell 62% to $3.82 million.
"Demand has been falling and refining capacity has been growing, that's not a good combination," said Pavel Molchanov, an energy analyst at Raymond James. "When demand is down and supply is up, that's a recipe for lower profits."
The Irving, Texas-based company said capital and exploration spending fell 6% to $6.6 billion in the quarter. The decline in spending was "mainly due to the strengthening of the U.S. dollar," the company said.
Production fell 3% in the second quarter.
Exxon (XOM, Fortune 500) shares were down 0.3% to $71.33 in morning trading after falling more than 2% earlier.

Features

These Fortune 100 employers have at least 350 openings each. What are they looking for in a new hire? More

It would be the world's second-biggest economy. See how big companies' sales stack up against GDP over the past decade. More