Obama: Recession's not over yet
President says 'many more months' before U.S. exits recession; jobless figures next week will still show that too many Americans are losing work.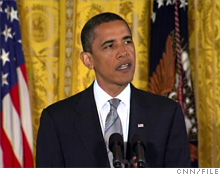 WASHINGTON (Reuters) -- President Barack Obama warned Saturday it would take "many more months" for the United States to get out of recession even after GDP figures showed the economy shrank only modestly in the second quarter.
Obama, who has defended his administration's economic policies vigorously in recent weeks in the face of worsening unemployment numbers, said jobless figures next week would still show that too many Americans were losing work.
"It will take many more months to fully dig ourselves out of a recession -- a recession that we've now learned was even deeper than anyone thought," Obama said in his weekly radio and Internet address.
"And when we receive our monthly job report next week, it is likely to show that we are continuing to lose far too many jobs in this country. As far as I'm concerned, we will not have a recovery as long as we keep losing jobs," he said.
Economists said gross domestic product data Friday provided clear evidence the 19-month recession was almost over.
Obama, echoing his comments from the previous day, said that was proof his $787 billion stimulus package and other economic initiatives had shown dividends.
"In the last few months, the economy has done measurably better than expected," Obama said, referring to the GDP report.
"And many economists suggest that part of this progress is directly attributable to the Recovery Act. This and the other difficult but important steps that we have taken over the last six months have helped put the brakes on this recession."
Obama repeated his message that economic growth must come before job growth would follow and said the figures showed the country was moving in a better direction.
"The report yesterday on our economy is an important sign that we're headed in the right direction," he said.
"Business investment, which had been plummeting in the past few months, is showing signs of stabilizing. This means that eventually, businesses will start growing and hiring again."
Obama's comments on the economy marked a small change in emphasis after weeks of focusing most of his public remarks on healthcare reform.
Senator John Thune of South Dakota, in the Republican weekly address, said the Democratic president's healthcare plans were too expensive.
"In this difficult recession, Americans and our government are already over-extended," Thune said.
"The Democrats who control Congress have been spending money and racking up debt at an unprecedented pace, and their plan for government-run health care would only make things worse."

Features

These Fortune 100 employers have at least 350 openings each. What are they looking for in a new hire? More

It would be the world's second-biggest economy. See how big companies' sales stack up against GDP over the past decade. More