Economic oil spill on the horizon?
Rising energy prices are a sign that the economy is improving. But at some point, higher oil and gas costs could jeopardize chances for a sustained recovery.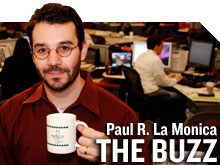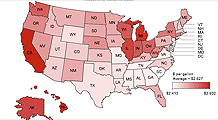 Prices at the pump can vary widely among states due to a number of factors.
More
NEW YORK (CNNMoney.com) -- Oil prices are on the march again, rising above $71 a barrel Monday for the first time in more than a month.
The good news is that increased optimism about an economic recovery is one big factor behind the jump in crude prices. The bad news is that if oil prices continue to rise, we may have to kiss those recovery hopes goodbye.
While there appear to be many signs that the economy is stabilizing, there has yet to be a pickup in consumer spending.
Many are still nervous about the economy, and the memory of last summer's $4 a gallon gas and $140 a barrel oil is still fresh in the minds of most people.
So the last thing that consumers need are more worries about rising costs at the pump and how expensive it's going to be to keep their homes warm this winter.
Robert Dye, senior economist with PNC Financial Services in Pittsburgh, said that oil prices between $60 and $70 a barrel are consistent with his belief that the recession should end sometime during this quarter and that the nation's gross domestic product could actually grow on an annualized pace in the fourth quarter.
But Dye said that if oil prices continue to remain higher than $70 for an indefinite period, that could be a problem.
"Oil above $70 could exert downward pressure on GDP, and if we get into the $80 to $90 range, I do think we run the risk of this very fragile recovery stalling out," he said.
Talkback: Are rising oil and gas prices affecting your spending habits? And are you worried that energy prices will get back near last year's record levels? Leave your comments at the bottom of this story.
Gas prices have taken a turn up as of late as well. The average price of a gallon of regular unleaded gas inched up to about $2.55 a gallon, according to the AAA's latest daily report Monday. That marked the 13th consecutive increase. Prices are up nearly a dime during that span.
Keith Hembre, chief economist for First American Funds in Minneapolis, said that these increases could cause consumers to pull back on other purchases. He estimates that for every penny increase in gas prices, consumers are collectively likely to spend $1.25 billion less on other discretionary items.
So the most recent rise in gas prices could mean that $12.5 billion spent on gas won't be spent elsewhere. To be sure, that's not a huge amount. But if energy prices keep rising, it will add up.
"It's cliche, but rising oil and gas prices are like a tax on consumers," Hembre said. "These increases probably won't be catastrophic and cause a major downturn in spending, but it's another factor that's likely to weigh on the pace of the recovery."
So where will oil prices go from here?
Hembre said that it seems that oil prices are rising more as a result of investors being willing to take on more risk as opposed to actual changes in fundamentals.
Even though expectations of increased energy consumption by China due to its massive stimulus package are having some effect, China by itself is not enough to justify oil prices more than doubling from lows earlier this year.
"Oil has gone from $30 a barrel to $70, but the global improvement in demand is not commensurate with that increase," Hembre said.
Tom Higgins, chief economist with Payden & Rygel Los Angeles-based money management firm, added that it's not unsual for oil prices to bounce so sharply considering how high they peaked last summer and how low they fell this winter. But he also thinks that prices probably shouldn't head much higher from here.
"If you look at current supply and demand, oil at $71 is not justified. We've jumped the gun a little bit," Higgins said. "It is going to be a tepid economic recovery in the second-half of the year."
Dye agrees. He thinks oil prices should self-correct if it becomes more clear that a recovery won't be as robust as some expect.
"The forces exerting themselves on oil prices have mostly been speculative," Dye said. "Any good economic news immediately translates into higher oil prices on the assumption that demand will increase. But that assumption hasn't always proved correct."
Dye said he's hoping that oil prices cool off soon because if they rise above $75, it's possible momentum would carry crude even higher. He doesn't think that people have to worry about triple-digit oil prices just yet, but nothing can be ruled out in a market this volatile.
"It's hard to put odds on where oil is going because a variety of factors influence the price," Dye said. "But certainly, the experience of the last couple of years has reminded us that unlikely events can happen."
And Dye warns that if oil prices do go above $100, that could be enough to send the economy back into recession by the second quarter of 2010. So here's hoping that sanity returns to the commodity trading pits before another oil bubble forms.
Talkback: Are rising oil and gas prices affecting your spending habits? And are you worried that energy prices will get back near last year's record levels?

Features

These Fortune 100 employers have at least 350 openings each. What are they looking for in a new hire? More

It would be the world's second-biggest economy. See how big companies' sales stack up against GDP over the past decade. More