Cash for Clunkers lifts auto sales
Ford ended 19 straight months of sales declines with a 2% increase in July. Other automakers also got a much-needed boost from government trade-in program.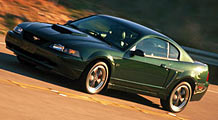 Even if you think your old car qualifies for a Cash for Clunkers rebate, you may be surprised at your options.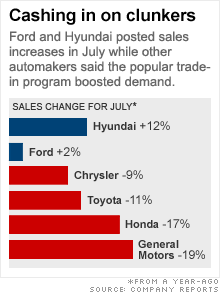 NEW YORK (CNNMoney.com) -- Most major automakers reported better-than-expected sales in July thanks to a boost in demand sparked by the government's Cash for Clunkers trade-in program.
Ford Motor Co. said Monday that sales rose 2% compared to a year earlier. This was the first increase from any U.S.-based automaker since November 2007. Sales tracker Edmunds.com was expecting a 4% decline in sales for Ford (F, Fortune 500).
General Motors, Toyota Motor (TM) Chrysler Group, Honda Motor (HMC) and Nissan (NSANY) all reported drops in sales compared to a year ago, but sales rose sharply from June. That allowed industrywide sales to reach nearly 1 million vehicles in July.
Even though that was down 12% from a year ago, it was the best sales total since last August, right before the crisis in the financial markets caused a credit crunch and a jump in job losses.
All the companies said they were helped by the popular Cash for Clunkers program, which gives car buyers up to $4,500 for trading in older, gas-guzzling vehicles if they're buying more fuel efficient cars.
Korean automaker Hyundai, the only car company besides Ford to report an increase in sales from a year ago, said that 22% of its sales in July included a buyer who turned in a clunker. Hyundai reported a 12% increase in sales from a year ago.
GM estimated that Cash for Clunkers boosted industrywide sales by 118,000 vehicles, with two-thirds of the purchases coming from buyers turning in clunkers, and the rest from people who came to dealers because of the program and decided to buy a new car even though they didn't have a clunker that qualified.
The program helped Ford sell significantly more cars and crossover models, even while its trucks and SUV sales continued to fall from year-ago levels. Shares of Ford soared more than 7% on the news.
"Cash for Clunkers put us over the top," said George Pipas, Ford's director of sales analysis.
Ford said it did not have any specific numbers of customers who had taken advantage of Cash for Clunkers, but that the program was not the only reason for the solid sales.
"We had another strong month in progress before the Cash for Clunkers program started," said Ken Czubay, Ford vice president of sales, in a statement.
General Motors reported a 19% drop in sales, matching the forecast from Edmunds.com. But it managed about an 8% increase in sales from June. GM vice president Mark LaNeve said in a statement that the company expected to continue "this positive momentum in August" if the Cash for Clunkers program stays in place.
The program is close to running out of the $1 billion appropriated by Congress to try to spur auto sales and reduce auto emissions. The House approved an additional $2 billion in funding for the program Friday, but the Senate has yet to act.
Cash for clunkers a one-time pop?
Concerns that the program could be in jeopardy helped lead to a massive increase in sales at the end of last week. Even without those fears, the program caused heavy sales throughout the eight days it was in effect at the end of the month. Ford's Pipas said that the industrywide seasonally adjusted sales rate, or SAAR, spiked to between 15 million and 16 million vehicles during the final week of July.
But Pipas cautioned that the strong sales pace may not be sustainable, especially if the unemployment rate continues to rise.
"We may have seen the bottom, but we're not out of the woods yet," Pipas said.
For the full month the SAAR reached 11.2 million, according to sales tracker Autodata. While that was down 12% from a year ago, it was up 16% from the June sales pace.
Sales at Toyota fell 11% from a year ago, but jumped 32% from June. The year-over-year drop wasn't as large as Edmunds.com's forecast of a 15% drop.
And sales were significant enough to move Toyota back into second place in terms of U.S. sales. Toyota had trailed Ford during the previous three months.
At Chrysler Group, which includes Chrysler, Dodge and Jeep brands, were down 9% from a year earlier, but up 30% from June levels. The year-over-year sales decline was also better than forecasts of a 39% drop by sales tracker Edmunds.com.
Chrysler said its dealership traffic during the last week of July was more than double the same period a year ago, mainly due to Cash for Clunkers.
"The new-vehicle sales market got a shot in the arm the last week of July," said Steven Beahm, a Chrysler vice president, in its sales statement.
Honda reported a 17% drop in sales compared to a year ago, worse than the 14% annual decline expected by Edmunds.com. But sales were up 14% from June.
Nissan reported a 25% drop in sales from a year ago, roughly in line with Edmunds' forecast. Sales did jump 23% jump from June, however.
Jessica Caldwell, industry analyst for Edmunds.com, said Cash for Clunkers has helped lift auto sales by more than her firm had initially expected. But she added that it's not clear how much longer the program will boost sales, even if additional funding is approved.
"It's not clear how many more clunkers there are out there that people are willing to trade, once the initial pent up demand is satisfied," she said.
Still, Caldwell said that if the funding for the program is extended, industrywide sales in August could be up -- and that would be the first year-over-year increase since October 2007.
"With every month having been horrific, any news like this is good news," she said.
Talkback: Do you think the worst is over for the auto industry or is the Cash for Clunkers program providing only a temporary boost?

Are you part of a Detroit-area family with a tradition of working in the automotive industry? Send an email to gmannes@moneymail.com and you could be included in an upcoming Money magazine story.

Features

These Fortune 100 employers have at least 350 openings each. What are they looking for in a new hire? More

It would be the world's second-biggest economy. See how big companies' sales stack up against GDP over the past decade. More