TARP watchdog raids 2 banks
Special inspector general overseeing bailout targets bank in Florida that failed to secure federal funds.
Bailout tracker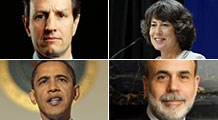 The government is engaged in a far-reaching - and expensive - effort to rescue the economy. Here's how you can keep tabs on the bailouts.
More
WASHINGTON (CNNMoney.com) -- Federal agents in Florida on Monday raided two banks that last week scuttled a deal that would have qualified one of them for federal bailout funds.
The agents were acting on search warrants issued by the office of Neil Barofsky, the special inspector general for the Troubled Asset Relief Program.
The Montgomery, Ala-based parent of Colonial Bank, Colonial BancGroup Inc. (CNB), had a deal in the works to get a $300 million capital infusion from the smaller Ocala, Fla.-based mortgage lender Taylor, Bean & Whitaker. The deal would have made it possible for the Alabama bank to become eligible for a $550 million federal bailout.
However, the Alabama bank announced Friday that the deal was off as it released dismal quarterly financial results.
The failed deal led the bank to express "substantial doubt about Colonial's ability to continue," the bank said in a press Friday.
It's unclear exactly what Barofsky is investigating. By law, he is charged with investigating fraud and other misconduct related to TARP.
His agency announced last month that it had launched 35 criminal and civil investigations into a range of allegations from accounting and securities fraud to insider trading and public corruption.
Kristine Belisle, a spokeswoman for the inspector general's office, said that agents "executed two search warrants today in the state of Florida." She declined to elaborate, citing the pending investigation.
Colonial Bank spokeswoman Merrie Tolbert confirmed that one of the bank's branch in Orlando had been searched by federal agents, but she declined to provide further details. She said the bank is cooperating.
"The search warrant has no impact on our day-to-day retail commercial banking operations," Tolbert said.
Calls to Taylor, Bean and Whitaker seeking comment were not returned Monday.

Features

These Fortune 100 employers have at least 350 openings each. What are they looking for in a new hire? More

It would be the world's second-biggest economy. See how big companies' sales stack up against GDP over the past decade. More