Toyota struggles to get back on track
With losses mounting and competition from slimmed down U.S. car makers about to get tougher, some fear Toyota's days as a growth company could be over.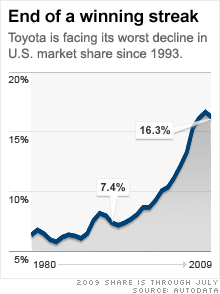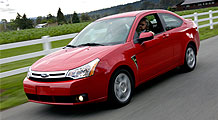 These are the most popular cars purchased under the Cash for Clunkers program.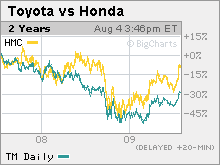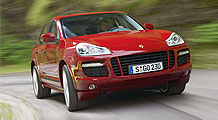 In J.D. Power's latest survey, new vehicle owners rate just how much they love their cars and trucks. The results include some pretty big surprises.
NEW YORK (CNNMoney.com) -- Toyota Motor, the automaker that for years could seem to do no wrong, has had a lot go wrong lately.
The company reported its first annual loss as a public company during its most recent fiscal year. Much of that can be blamed on the collapse in demand for cars globally -- most notably in the United States, which is now its largest market.
Toyota (TM) posted another quarterly loss Tuesday, albeit a smaller one than expected by analysts. Toyota also said it does not expect to lose as much money this year as it previously thought due to improvement in its Japanese operations.
Still, the outlook for the world's largest automaker remains highly uncertain.
Several of its plants, such as its San Antonio pickup plant, are running at a fraction of planned capacity, and work remains on hold on construction of a new Prius plant in Mississippi that had been near completion when the downturn hit.
Toyota is weighing whether it will have to close a California assembly line it had jointly operated with General Motors, but which GM shed as part of the bankruptcy process. If it closes, it would be the first time a North American plant that built Toyota was ever shuttered.
"Everybody is hurting in terms of capacity utilization, but this is a radically different position for them to contend with," said Mike Jackson, director of North American vehicle forecasts for auto industry consultant CSM Worldwide.
What's perhaps more troubling for Toyota is that it finds itself losing ground after years of nothing but gains in the U.S.
Even though the company's U.S. market share received a boost in July thanks to sales tied to the Cash for Clunkers program, Toyota's year-to-date share is about a half-point below where it was a year ago. If Toyota finishes the year with a lower market share, that would be the first drop in a decade.
Experts said that since Toyota had the most aggressive growth plans before the downturn, it was inevitable that it would take a severe hit when the bottom fell out of the U.S. market.
Bracing for tough competition from Detroit
But some think it will also be tougher for them to get back on track. Even if the company returns to profitability once demand for vehicles rebound, Toyota's days as a growth company may be coming to an end.
"They seemed to gain a point of market share every year but that couldn't keep going on," said Tom Libby, president of the Society of Automotive Analysts. "Future gains are going to be much more difficult."
Analysts said the company will face much stronger competition in North America from U.S. automakers.
General Motors and Chrysler Group both shed a lot of the debt and excess dealers they were saddled with as part of their bankruptcy process, with GM also getting rid of its weaker brands.
Ford Motor (F, Fortune 500) avoided bankruptcy, but the company was still able to win various concessions in a new contract with the United Auto Workers union that will make it more efficient.
"As the domestics become more competitive, it won't be as easy for them to march up in share," said Bob Schulz, Standard & Poor's senior auto credit analyst.
In addition, Korea's Hyundai has become a much more significant player in the U.S. market as of late, recording the kind of growth that Toyota used to before the downturn.
But another part of the problem is simply a natural maturation process. Up until recently, Toyota was able to grow by continuing to move into new segments of the market, such as SUVs, luxury offerings and full-size pickups. But with basically a complete product lineup today, that kind of growth is no longer possible.
"They've run out of unconquered territory," said Libby. He added that he's concerned that some of Toyota's new offerings now overlap with existing products, which can leave it with poorly performing niche vehicles.
"That can put you on a path to becoming GM," Libby said.
The problems have not been lost on investors. Although shares of Toyota's U.S.-listed shares have been rallying for the past four months, that rebound merely leaves Toyota where it was before it plunged last fall. The stock is down about 25% over the past two years, trailing the performance of Japanese rival Honda Motor (HMC).
Still, nobody is suggesting that the company faces the kind of crisis that plunged GM and Chrysler into bankruptcy and has left Ford with a huge debt load.
"It's all relative," said CSM's Jackson. "They're still in an enviable position compared to the domestics."
Talkback: What do you think of Toyota's cars? Are they better than those made by Detroit's Big Three? Share your comments below.

Are you part of a Detroit-area family with a tradition of working in the automotive industry? Send an email to gmannes@moneymail.com and you could be included in an upcoming Money magazine story.

Features

These Fortune 100 employers have at least 350 openings each. What are they looking for in a new hire? More

It would be the world's second-biggest economy. See how big companies' sales stack up against GDP over the past decade. More