Job loss eases, but remains steep - ADP
Report says private sector jobs fell at the smallest monthly rate in 9 months, but separate survey says planned reductions surged 31%.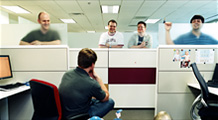 Free beer, generous vacation leave, and a say in company decisions - see how 7 innovative companies are inspiring workers and boosting the bottom line.
Millions of job openings!
NEW YORK (CNNMoney.com) -- Private-sector employment recorded its smallest monthly drop in nine months during July, but the number of job cuts announced in the month spiked 31%, according two reports released Wednesday.
Automatic Data Processing, a payroll-processing firm, said private-sector employers cut 371,000 jobs in July. It was the smallest monthly total since last October.
Economists surveyed by Briefing.com had forecast a loss of 350,000 jobs last month.
The June total was an improvement over May's revised job loss of 463,000, which was originally reported at 473,000.
"This does represent a deceleration from the pace we've seen over the last several months," said Chris Varvares, an ADP spokesman and president of Macroeconomic Advisers. "But job losses continue to be broad based."
Looking ahead, Varvares said he expects modest job growth in the second half of next year. He said the unemployment rate will reach 9.9% in the fourth quarter and could peak at 10.2%.
"The labor market, like the overall economy, is showing signs of stabilization," he said. "Job losses will dwindle toward year's end and we could see positive job numbers somewhere near the end of 2010."
Large businesses, those with 500 or more workers, shed 74,000 jobs. Medium-sized businesses, with between 50 and 499 workers, chopped 159,000 workers. And small-businesses, those with less than 50 workers, shed 138,000 jobs.
The manufacturing sector cut 99,000 jobs in July compared with 146,000 the month before. It was the smallest monthly decline since September of 2008.
The ADP report is based on payroll data from about 500,000 employers across a broad range of industries.
Challenger report: Separately, outplacement firm Challenger, Gray & Christmas Inc. reported that the number of job cuts announced in July spiked 31% to 97,373, bouncing off a 15-month low in June. July marked the first increase in monthly job cuts since January.
"After June's surprisingly low job-cut total, a July rebound was not entirely unexpected," said John Challenger, chief executive officer of Challenger, Gray & Christmas in a statement. "While there are signs that the economy is stabilizing and the pace of layoffs slowing, we are still a long way from a full recovery."
Challenger said the rate of job cuts will continue to increase for the rest of the year. "Monthly job cuts are likely to return to levels in excess of 100,000 by the fourth quarter."
Job cuts in July were led by firms in the transportation industry and telecommunication sector.
Challenger said that the transportation industry could see a boost around the holiday season. The layoffs in the telecommunications industry were not likely to come back anytime soon, however, and were a result of the shift in consumer demand away from land-line services.
Meanwhile, the automotive sector, which leads all other industries in total job cuts this year, has seen planned job cuts decline for the last three months. Challenger was not optimistic that the trend was a reason to celebrate in Detroit.
"Declining layoffs in the automotive industry may not be indicative of a turnaround," he said. "Instead, these employers simply may not have any room for additional job cuts if they hope to build new fleets of more eco-friendly cars."
The government's monthly jobs report is due Friday. The Labor Department report is expected to show that the economy shed 328,000 jobs in July, less than the 467,000 reported for June, according to a consensus estimate of economists compiled by Briefing.com. The unemployment rate is predicted to rise to 9.6% from 9.5%.

Features

These Fortune 100 employers have at least 350 openings each. What are they looking for in a new hire? More

It would be the world's second-biggest economy. See how big companies' sales stack up against GDP over the past decade. More