TARP cop cites bailout lobbying
Overseer for bailouts says lawmakers asked regulators to fund banks, but he found no evidence that outside requests influenced decisions.
Bailout tracker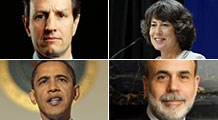 The government is engaged in a far-reaching - and expensive - effort to rescue the economy. Here's how you can keep tabs on the bailouts.
More
WASHINGTON (CNNMoney.com) -- A government investigator overseeing the $700 billion bailout reported on Thursday that outsiders, including some lawmakers, lobbied regulators on behalf of banks seeking money.
"I am writing on behalf of one of my constituents to express my support of their application for assistance and support under the Troubled Asset Relief Program," one lawmaker wrote, according to audit report by Neil Barofsky, the special inspector general for the Troubled Asset Relief Program.
Barofsky found 56 instances in which outside parties contacted regulators. Of those 56 firms, 16 got bailouts. And three of those 16 companies did not meet standard bailout criteria, but received money after regulators found "mitigating factors" justifying help, according to Barofsky.
The inspector general's report did not disclose the names of the banks examined or the people, including lawmakers, who lobbied on their behalf.
Barofsky said he found no evidence that bailouts were granted because of outside lobbying.
"SIGTARP did not identify any instances of external pressure having undue influence during the application review process," Barofsky wrote.
Still, the report calls on regulators to do more to shine a light on the issue.
Treasury Department staffers told the IG's office that they had received calls from those lobbying for bailout applicants but they didn't document the calls.
The report recommends that Treasury provide a more detailed and cleaner accounting of how each bailout decision maker votes. It also said Treasury and other regulators must maintain better records of talks they have with outside parties trying to lobby about bailouts.
Earlier this year, several news reports said that Reps. Barney Frank, D-Mass., and Maxine Waters, D-Calif., reached out to regulators about bailouts for banks.

Features

These Fortune 100 employers have at least 350 openings each. What are they looking for in a new hire? More

It would be the world's second-biggest economy. See how big companies' sales stack up against GDP over the past decade. More