Pretzel wars
Four Philly companies compete to expand America's waistline.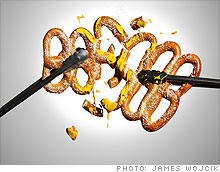 Photos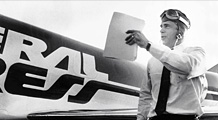 (FSB Magazine) -- Squeezed between Moe's Coffee Shop and the Shop N Go minimart on hardscrabble Frankford Avenue, in the heart of working-class Northeast Philadelphia, lies the Philly Pretzel Factory. With its algae-green sign bolted to the building's khaki stucco exterior, it looks more like a takeout joint than the headquarters of a $40 million empire. The truth is, it's both.
At eight o'clock on a brisk Friday morning, neighborhood folks -- in all shades and shapes, from two burly guys in courier uniforms to a bottle blonde impatiently jingling her keys -- stand eight deep inside the Factory. The crowd is starting to spill out of the building, while customers near the counter watch like kids peering into the oven window, urging on a batch of Christmas cookies.
Store manager Amy Lord delivers a fresh-from-the-oven haul of the browned, salty treats to Amy Hoover, a real estate agent and Pretzel Factory regular. Same order, same time every day: a bag for the office, a bag for herself (with a tiny tub of cheese for dipping). "Let me tell you, I could not have been more thrilled when this place opened," Hoover says a few minutes later. "Now we're all really spoiled."
Upstairs, Dan DiZio sits at a long conference table. He's president of the Factory, which, with 123 stores open and another 27 in the planning stages, is the 800-pound gorilla of the regional soft pretzel market. It's quiet here in the corporate offices, which feel more like a tidy college dorm than the hub of a thriving, expanding business enterprise. Which seems fitting for DiZio, 37, a gangly, aw-shucks kind of guy who grew up selling someone else's pretzels on a street corner. "I never imagined this is how it would all turn out," he says. "I just wanted to start my own business."
Once the pride of a few family bakeries in gritty South Philadelphia, soft pretzels have always been big business in the city. But over the past decade, with four pretzel companies supporting more than 160 freestanding retail stores that tempt the taste buds and test the waistlines of locals addicted to the doughy treats, the Philly area market has become saturated, and the Big Four are hoping to turn their soft pretzels from a regional obsession into a national one.
Each of the Big Four dismisses the others' product and plans for growth, but they all believe that giant vendors like J&J Snack Foods (JJSF) -- maker of the ubiquitous SuperPretzel -- and Auntie Anne's have bamboozled the pretzel-eating public into accepting inferior pretzels.
"Philadelphians know the difference between a good pretzel and a horrible pretzel," says Vince Marinelli, a former electrician who heads A Taste of Philly, which operates 18 stand-alone pretzel stores, mainly in the Philly burbs. "Outside this area they don't know the difference. So there's some work to be done educating people."
As the Big Four fight it out, J&J, which is headquartered a few miles from Philadelphia in Pennsauken, N.J., continues to grow, even expanding into other supermarket brands, including Luigi's Italian Ices, L.A. Churros and Icees. The company, which started in 1971, doesn't seem worried about its upstart rivals. J&J's market research shows that the Big Four's pretzels are too dense and underbaked for tastes outside Philadelphia, according to executive vice president Vince Melchiorre. He dismisses the upstarts' aspirations as "not a big deal" in light of J&J's market penetration in stadiums, movie theaters and supermarkets. "Their pretzels are good, but they're hard as a rock a few hours later," Melchiorre says. "Ours you can have warm and fresh five minutes out of the box -- and you're getting the same pretzel you'd get at a ball game."
The pretzel traces its lineage back to somewhere around A.D. 610.
Legend has it that a European monk preparing unleavened bread for Lent twisted leftover dough to imitate hands folded across the chest in prayer. Another story has the pretzel arriving in the New World on the Mayflower in 1620.
Philly's no-nonsense residents aren't big on fables, so here are the facts: The pretzel as a snack for the American masses is rooted in the Lancaster, Pa. Amish country, some 60 miles outside Philadelphia. Today Pennsylvania-based snack-food giants like Herr's, Utz and Snyder's of Hanover churn out millions of crunchy, salty hard pretzels that have become a staple of family picnics and weekends watching football games on the tube.
"I think pretzels have endured because they're so bland," says Angela Hunt, author of Pretzels by the Dozen, a whimsical history of the treat. "You can make them taste sweet or salty, and they come soft like bread or crunchy as a snack in front of the TV. They're very versatile and at the same time very basic."
Lancaster is also the corporate headquarters of Auntie Anne's, a national soft pretzel behemoth that posted retail sales of $333 million last year. And indeed it is the Auntie Anne's variety -- meal-size, yeasty confections slathered in butter and sold in flavors such as cinnamon-sugar and sour-cream-and-onion -- that most people associate with the American soft pretzel.
The Philadelphia version is different: smaller, generally lighter in color, elongated in shape and basic (no flavorings or weird concoctions). It's also much cheaper, typically retailing for 50 cents apiece, three for a buck, compared with $2.75 for one Auntie Anne's. The local entrepreneurs aiming to bring Philly pretzels to the masses are banking on the belief that this price difference will allow them to compete not only against Auntie Anne's but also against the dollar menus at McDonald's (MCD, Fortune 500) and Wendy's (WEN). "That," DiZio says, "is where the money is."
In addition to its legendary cheesesteak, Philly has given the world Tastykake (TSTY) (like Hostess, only superior) and the peanut chew (look it up). Three of the four men now running soft pretzel companies in the Philly market sold pretzels there as kids. DiZio started pushing pretzels at the age of 11. His first weekend on the job, he made $80. "My allowance was three bucks a week," he recalls. "So this was like half of my annual income."
By the ninth grade he knew he wanted to run a pretzel business, but in college the dream was usurped by more practical plans. After graduation he became a stockbroker. But DiZio couldn't contain his pretzel obsession. He soon traded his suits for an apron, and he and a college pal, Len Lehman -- a psych major who jumped in simply because he thought working for himself would eventually allow him more time to play golf -- each put up $17,000, opening the Frankford Avenue store in 1998.
"Everyone thought we were crazy," DiZio says. That included their landlord, who predicted they'd be out of business in three months. Then word spread that fresh-baked pretzels were being sold, and locals streamed in, snapping up 50, sometimes 100 at a time. A year later DiZio and Lehman bought their building and two adjacent buildings from the same landlord. Today the complex comprises the store and the company's corporate offices; the staff numbers 58 (not counting franchise employees at other locations).
Most Philadelphians grew up eating soft pretzels, so the opportunity to get them hot, fresh and chewy was too good to pass up. And the business model was too good not to copy. As DiZio opened locations in and around Philly over the next several years, others saw the potential and dived in to grab a piece of the dough.
And so the Great Philadelphia Soft Pretzel Battle was joined. With almost $40 million in annual sales and more locations than his three main competitors combined, DiZio is the undisputed king of the market but hardly its only success story. Pretzel Boy's, run by local entrepreneur Tim Dever, has established market dominance to the west and south, while Marinelli's A Taste of Philly boasts of success to the north and west. (A Taste of Philly posts annual gross revenues of around $4.5 million; Dever declined to reveal Pretzel Boy's revenues.) The fourth player is Jim's Soft Pretzel Bakery, founded in 2002 by Jim Moore, another kid salesman turned grownup maven. Moore, who wouldn't supply the company's totals, currently runs a dozen locations, mostly in the Philly suburbs, and has openings scheduled for several more.
So how many pretzels can one city eat?
While the soft pretzel's price point makes it a fairly recession-proof venture, the battle for market domination carries some risk. Flour prices have ridden a roller coaster in the past 18 months, soaring from $10 a bag to a peak of $36 because of increased demand from India and China and weak wheat crops in the U.S. and Europe. Gaining a foothold in the stadium business means paying steep up-front licensing and marketing fees to the sports franchises that own the buildings. That locks the Big Four out -- for now anyway. And there is the cautionary tale of Krispy Kreme (KKD), the regional favorite that successfully tantalized the nation's fancy and taste buds with its addictive glazed doughnuts, only to crash and burn due to overaggressive expansion and the no-carb diet craze.
Finally -- and perhaps most important -- how do you establish brand loyalty when you're selling a generic product? There's a big taste difference between a Mrs. Fields chocolate chip cookie and one from David's or Tate's. But a soft pretzel?
"My question to these four pretzel companies is this: Can you tell the difference?" says Chris Bigelow, a Kansas City-based consultant to the food-service industry. "It's the old blind taste test, like with all those hoagie shops in Philly. They all survive somehow, because everybody's got their favorite. But is there really any difference?" The short answer is no. Which is why victory in the national pretzel war will come down to marketing, not product -- to who can persuade America to embrace the Philly version of the soft pretzel over Auntie Anne's in the mall and SuperPretzel in the supermarket freezer.
Marinelli is launching a new store in Indianapolis and planning another near Los Angeles. DiZio is testing markets in Pittsburgh, upstate New York, Georgia and North Carolina. "We're not 100% sure they'll work in Georgia and other areas," says DiZio, who closed several franchises in Florida after soft pretzels failed to catch on with snowbirds. "We allowed two stores to open [in Florida] because we want the branding power, but we're not going to be opening 30 stores down there. We know we're putting people's life savings at stake."

To write a note to the editor about this article,
click here
.