Goodbye local bank branch
Lenders are culling locations as a result of the recession and industry consolidation. How deep will they go?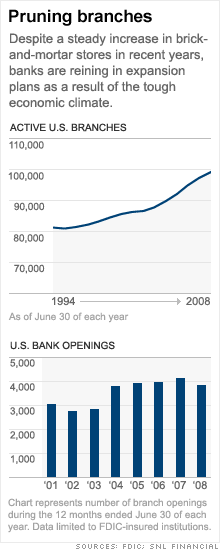 NEW YORK (CNNMoney.com) -- Don't look now, but your local bank branch might be disappearing.
Faced with a severe economic environment and massive consolidation within the industry, banks are taking a hard look at their retail banking locations.
Severe loan losses in areas like credit cards and commercial real estate, have also put banks' capital levels under severe pressure, prompting some lenders to look for ways to cut expenses.
"Banks are broadly reassessing their branches," said Bob Meara, senior analyst at the consultancy Celent. "What we don't know is how they are going to react."
From big banks to regional players, there are already indicators that the nation's massive banking system is trying to slim down.
Bank of America (BAC, Fortune 500), the nation's largest bank by deposits, made headlines in July when reports surfaced of its plans to trim as much as 10% of its brick-and-mortar branch locations.
And Birmingham, Ala. -based Superior Bancorp (SUPR), which operates 77 offices in the Southeast, revealed plans late last month to shutter seven branches in an effort to save $3 million annually.
Some experts suggest that examples like BofA and Superior are the exception rather than the rule among the 8,000 or so institutions that populate the U.S. banking industry.
But what is clear is that banks will continue to feel pressure along a number of fronts to cut costs, which could mean shuttering more neighborhood locations.
For starters, some banks aggressively overbuilt in the years leading up to the crisis, experts note, hoping to capitalize on the housing market boom among other things.
"There is no question there were some areas that were overbranched," said Scott MacDonald, a professor of banking at SMU's Cox School of Business. "If you go to somewhere like California, there was literally a branch on every corner."
As of the end of last June, the U.S. banking industry boasted over 99,000 branches. Five years earlier, that number stood at just under 88,000, according to recent data published by the Federal Deposit Insurance Corp.
Nowadays however, banks are coping with the fact that branches are generally much less profitable nowadays as banks have become reluctant to issue new loans in light of troubling economic signs like rising unemployment.
"What is absolutely clear is that the banking crisis of the last year and overall economic conditions have significantly hampered branch profitability," said Meara.
And running a bank branch isn't cheap.
Bancography, a Birmingham-based consulting firm that advises lenders across the country on expansion plans, estimates that opening a new, 3,500-square-foot branch, costs, on average, anywhere between $2 million and $2.5 million to open.
To keep that same branch running, banks pay, on average, about $350,000 to $400,000 a year, to cover everything from employee salaries to taxes.
Consolidation and technology
Intensifying the prospect for branch consolidation is the unprecedented number of mergers within the industry over the last 12 months.
Even as it maintains its plans to continue building branches, JPMorgan Chase (JPM, Fortune 500), for example, has closed nearly 400 locations as a result of last fall's purchase of thrift giant Washington Mutual.
And while Wells Fargo (WFC, Fortune 500) has yet to determine exactly how many branches it will keep or close as a result of its acquisition of Wachovia, there are already signs it will make cuts to its retail bank locations which totaled more than 6,600 as of the end of the last quarter. The company has already announced it will consolidate 14 stores in Colorado, where it plans to start its branch conversions this fall.
In such instances, notes Jamie Eads, a senior project manager with Bancography, lenders are looking closely at those two branches that are geographically redundant and determining which ones they can get rid of, based on a combination of factors including performance and location.
"It is just a way of continuing to serve the market without having much overlap," she said.
Consumers' increased reliance on non-traditional channels to do their banking -- including paying bills online or using the ATM to make deposits -- is also pressuring some banks to rethink their branch strategy.
Insurer USAA, for example, has enjoyed explosive deposit growth in recent years despite having a virtually non-existent retail branch network.
But most experts label USAA's success an anomaly in a business built on customer relationships. If anything, expect a more moderate decline in the number of bank branches in the years ahead.
"Branches will be central to deposit gathering for some time," said Meara.

Features

These Fortune 100 employers have at least 350 openings each. What are they looking for in a new hire? More

It would be the world's second-biggest economy. See how big companies' sales stack up against GDP over the past decade. More