Citi trader's $100M payday exempt from TARP rules
Kenneth Feinberg is expected to begin reviewing pay at bailed-out companies, but Andrew Hall's contract is not in the pay czar's purview because of cut-off date.
Photos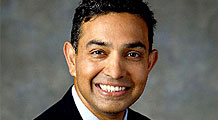 NEW YORK (Reuters) -- Citigroup Inc.'s contract with energy trader Andrew Hall, which reportedly could pay him up to $100 million this year, will not be subject to rulings by the Obama administration's pay czar, a source close to the bank said Wednesday.
Pay czar Kenneth Feinberg on Friday is expected to begin reviewing compensation structures at several companies that received bailouts, including Citi (C, Fortune 500), which has taken $45 billion from the U.S. Treasury's Troubled Asset Relief Program, known as TARP.
While Feinberg has authority over the top 100 employees' pay -- and Hall surely ranks among those -- the source said Hall's contract will be exempt from review by the pay czar because it was signed before a cut-off date of Feb. 11, 2009.
TARP recipients are permitted to make bonus payments required under written contracts executed before February 11, according to compensation rules announced in June. It was not immediately clear why Feb. 11 was the cut-off date.
Hall is the top trader at Phibro LLC, the Connecticut-based energy trading arm of Citi, which has become famous for outsized profits in the oil markets.
Citigroup declined to comment about its submission to the pay czar, but said in a statement that Phibro operates under a "pay-for-performance" contract, with compensation determined by year-end profits produced by the unit.
Last month, White House spokesman Robert Gibbs responded to questions about Hall's possible pay package, saying "one could easily come to the conclusion that that's probably a bit out of whack on any pay scale."
Feinberg has been consulting with seven companies, including Citigroup, American International Group Inc. (AIG, Fortune 500) , Bank of America Corp. (BAC, Fortune 500) , Chrysler Financial, Chrysler LLC, General Motors (GM, Fortune 500) and GMAC Inc., a Treasury spokesman has said.
Treasury officials, who did not comment on Hall specifically, have said Feinberg will have "broad authority" to ensure appropriate compensation, although he cannot force companies to break contractual obligations not covered by rules that govern pay restrictions.

Features

These Fortune 100 employers have at least 350 openings each. What are they looking for in a new hire? More

It would be the world's second-biggest economy. See how big companies' sales stack up against GDP over the past decade. More