Fortune Small Business

Entrepreneurial Superstars
The naturals: How Kiss My Face got started
A serendipitous soap find was the catalyst for a $75 million natural products pioneer.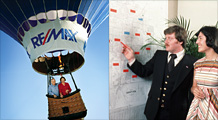 The founders of four breakout companies on how they built billion-dollar global brands like Costco and Re/Max from scratch.
Photos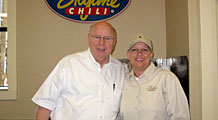 GARDINER, N.Y. (Fortune Small Business) -- Bob MacLeod was a talent agent and Steve Byckiewicz a flight attendant in 1980 when they ditched city life for a farmhouse and a fresh start. Unlikely entrepreneurs, they were mostly interested in gardening and entertaining. But dwindling savings prompted them to launch a business inspired by their healthy lifestyle.
Almost 30 years later their company, Kiss My Face, sells more than 200 bath and body products in 19 countries. The business is still small in size -- 55 employees headquartered in an old feed store in Gardiner, N.Y. But sales are big: $75 million in 2008. MacLeod chatted with Fortune Small Business from the office he shares with Byckiewicz.
What inspired you to launch Kiss My Face?
Steve and I weren't exactly visionaries. We moved to a 200-acre farm in Gardiner in 1980 because we couldn't afford to stay in Manhattan. We were both vegetarians and grew most of our own food, but soon began running out of money. We started selling our produce to health-food stores in nearby Woodstock, Kingston and New Paltz. After we took some produce to sell in Manhattan, we realized we could get three times as much there as we could upstate, so we began selling in the city once or twice a week. Back then, produce wasn't labeled organic. We just called it homegrown, and consumers responded.
One day, while Steve and I were shopping at a Woodstock clothing store, we saw a big basket of rough, earthy-looking Greek olive oil soap. We thought it was beautiful. Its label listed a SoHo importer. We drove into Manhattan, bought several cases, repackaged it in old olive oil tins and added labels that read, "Pure Olive Oil Soap of Greece." We brought it to health-food stores and sold it along with our produce. Within days two stores requested more, and one had sold out. We were onto something.
Then our importer called. He was moving and couldn't supply us with soap for a few months. So I requested 90 days of credit in exchange for his inventory. Steve and I rented a U-Haul, loaded it with six tons of soap -- 24,000 bars -- and stored it in our garage and in our barn.
Was it hard to sell 24,000 bars of soap?
We contacted distributors of personal-care products and sent them samples with handwritten notes. They loved it. Demand became so great that we realized we needed much more. Steve flew to Athens and spent days locating the original manufacturer. We ordered 22 tons of soap from him and borrowed about $20,000 from Steve's parents to buy it. It sold so well that we were able to repay them in 90 days.
That was our magical business moment: We realized we could be more than a one-trick pony.
How did you expand beyond soap?
There weren't many natural personal-care products back then. We partnered with a chemist to formulate others, using natural ingredients and no animal products. We started with olive oil and aloe vera gel and created Olive & Aloe Lotion, now our top-selling lotion. We began buying honey that our neighbors produced and used it to craft our Honey & Calendula Lotion, another hit. We continued adding products, testing most of them on friends first. Their brutally honest reviews helped make every launch pretty successful.
What's your business philosophy?
We stay true to our mission: to sell all-natural, healthy products. It would have been easier to compromise, but this is our lifestyle -- eating vegetarian and organic, growing lots of our own food and using our own products.
And we've always listened to customers. In 1991, during the first Gulf War, an American soldier in Kuwait wrote to us. He said he had used precious rucksack space to pack our shaving cream and thought it was junk. That letter was very painful to us. We pulled the product immediately and told retailers we'd return with something better. We did, and it became a bestseller.

To write a note to the editor about this article,
click here
.