GM bringing back 1,350 workers
Increased demand for fuel efficient cars is leading General Motors to reinstate workers and increase shifts and overtime in order to build 60,000 additional cars.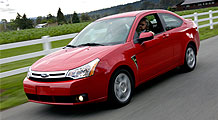 These are the most popular cars purchased under the Cash for Clunkers program.
NEW YORK (CNNMoney.com) -- General Motors is upping production and calling 1,350 of its U.S. and Canadian auto workers back to work due to increased demand for its vehicles.
The company said Tuesday it is raising production by about 60,000 vehicles in the third and fourth quarters, in response to the increased sales that accompanied the government's Cash for Clunkers program.
The increased production will come from added shifts and overtime, GM said. In addition, the company will keep select plants open during weeks that they had previously been forecast to be shut down.
For example, the Orion Township, Mich., plant, which had been scheduled to close for nearly two-years in mid-September, will now remain in operation until just before Thanksgiving.
Those additional hours should increase the paychecks for an about 10,000 GM workers beyond those called back to work.
"The uptick is an encouraging sign that vehicle sales are turning around, and we will ramp up quickly to meet that demand," said Tim Lee, GM group vice president for global manufacturing and labor, in a statement.
Weak sales and a need to conserve cash led the company to shut most production during the spring and early summer months, leaving GM with a record low dealer inventory of about 300,000 vehicles, according to company officials.
Mark LaNeve, GM vice president, U.S. sales, added on a conference call that he expects additional production increases to be announced in coming weeks and that the increased production could continue into the early months of 2010.
"We're probably not done," he said.
The Cash for Clunkers program, which gives car buyers up to $4,500 from the federal government for older gas guzzlers if they buy a more efficient new car, caused a spike in sales across the industry during the last week of July. GM rival Ford Motor (F, Fortune 500) has also announced increased production for the second half of this year.
LaNeve said that GM has continued to benefit from healthier demand since the end of July, putting it on pace to beat internal sales targets for August by about 50,000 vehicles.
But he cautioned that strong sales to rental car companies and other so-called fleet customers last August will make it difficult for GM to post a year-over year gain in sales.
GM, which filed for bankruptcy in early June as part of a government-mandated reorganization, emerged from bankruptcy protection last month.

Features

These Fortune 100 employers have at least 350 openings each. What are they looking for in a new hire? More

It would be the world's second-biggest economy. See how big companies' sales stack up against GDP over the past decade. More