Broadband stimulus bids 'overwhelming'
The administration extends the application deadline for $4.7 billion of broadband stimulus grants until Aug. 20. after government servers overwhelmed.
Map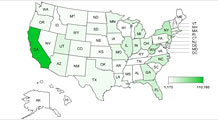 NEW YORK (CNNMoney.com) -- Wiring the nation for high-speed Internet access is an ambitious plan...so ambitious that the the government's servers slowed to a crawl last week from the influx of interest.
Such a high number of broadband companies submitted online applications right before the initial Aug. 14 deadline that the Department of Agriculture and Department of Commerce's servers were overwhelmed with the requests.
That prompted the administration to extend the application deadline for $4.7 billion of broadband stimulus grants until Aug. 20.
"The government came out very, very late with its guidelines, then everyone was rushing to get their applications in," said Alex Winogradoff, broadband strategy analyst at Gartner.
The rush of applicants underscores the great demand for improved Internet access in this country and the massive number of projects it will take to get high-speed broadband to nearly every American.
"The U.S. is still getting caught up with the rest of the world in terms of upload and download speeds," said Jeff Thompson, chief executive of wireless broadband provider Towerstream, whose company applied for a stimulus grant. "This incident just highlights the serious need for this grant program."
A Commerce Department spokesman said he was "pleasantly surprised" by the level of interest.
The plan. The grants are the first chunk of a $7.2 billion plan in the Recovery Act to bring high-speed broadband Internet access to consumers and businesses that can't access the service or can't afford their current provider's prices.
Grants will be given to companies that can provide broadband to census areas where 90% of households have no access to wireline or mobile broadband at all, where 50% have no access to wireline broadband of at least three megabytes per second, or areas where broadband is available but 40% or fewer actually subscribe to the service.
Though many of the end-recipients of the program will be rural homes and businesses, not all unserved or underserved areas are in far-reaching places. Many urban small businesses were never given cable access, and can't get it from the area's providers, because the cost of wiring those buildings is expensive, according to Thompson.
Big companies not applying. The infrastructure grants may have opened up a niche for start-ups, smaller providers and wireless broadband companies like Towerstream (TWER). The stimulus grants will help defray much of the infrastructure cost of delivering high-speed Internet, making some smaller projects more profitable sooner.
Three companies you won't see on the list of applicants are the nation's biggest broadband companies -- Verizon (VZ, Fortune 500), Comcast (CMCSA, Fortune 500) and AT&T (T, Fortune 500). Each stated that they wouldn't apply for the grants.
A Comcast spokeswoman said the company would not be applying for the grants because 99.4% of the homes in its reach already have access to its broadband cable service. AT&T said in a statement that it was concerned about the complexity and uncertainty the grant rules would create. A Verizon spokesman said the company would not apply for similar reasons.
Winogradoff said the bigger companies have plenty of reasons not to apply. Laying thousands of miles of cable for low-profit areas doesn't make much fiscal sense for the larger providers. Transparency laws in the stimulus plan could also make some competitive information public knowledge, such as planned expansion into certain areas.
But the biggest concern may be a net-neutrality clause in the grant rules, which stipulates that recipients "not favor some lawful applications and content over others."
Though the FCC does not allow companies to arbitrarily block Web sites, the stimulus plan's rules are both vague and potentially stricter.
For example, Comcast blocked BitTorrent in 2007, and though the decision was met with a wave of scorn by the FCC and net-neutrality advocates, the company maintained that it was within its rights to do so. BitTorrent is a peer-to-peer file-sharing Web site that Comcast said was eating up its bandwidth.
"The concern is 'what am I signing up for?'" said Winogradoff. "They are worried that [if they show support for it], the rules could potentially be adopted by regulators across the whole network."
Location is key. The government doesn't seem to think the program's success hinges on who participates as much as where companies are willing to build.
"If [big companies] want to participate, it's fine, if they don't want to participate, it's fine too." said an official with the Commerce Department's National Telecommunications and Information Administration, which is overseeing the non-rural part of the project. "Our mandate is to bring broadband where it isn't available or robustly provided by carriers today. So we're looking at areas where the larger providers are not providing robust broadband, or on the fringe."
After this week's round of grants are awarded, the rest will be doled out in several chunks, all of which have to be allocated by September 2010.
The administration says the program, which has been touted by President Obama since his campaign, will create 260,000 new jobs and will stimulate the economy by increasing business' productivity.

Features

These Fortune 100 employers have at least 350 openings each. What are they looking for in a new hire? More

It would be the world's second-biggest economy. See how big companies' sales stack up against GDP over the past decade. More