HP sees biz stabilizing as PC shipments rise
World's biggest tech company says PC sales rose in the past quarter. Though overall revenue dips, company says business is stabilizing.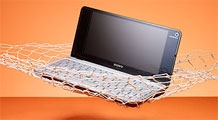 Netbooks are models of portability. But can you stare at those little screens all day? Our reviewer put three to the test.
NEW YORK (CNNMoney.com) -- Hewlett-Packard Co. said it saw signs of stability as it reported a quarterly profit and outlook on Tuesday that beat Wall Street's forecasts.
A 2% rise in PC shipments helped drive results.
HP is the world's largest tech company in terms of revenue and the largest global PC maker. All eyes have been pointed at the Palo Alto, Calif., company for hints at a tech recovery.
"HP's performance this quarter is a result of our strong business portfolio, efficient cost structure and scale," HP Chief Executive Mark Hurd said on a conference call with analysts. "Business is stabilizing, and we are confident that HP will be an early beneficiary of an economic turnaround ... when conditions improve."
Analysts were encouraged by the bellwether's performance, saying it signals a looming rebound in the tech sector.
"This shows the worst is behind us," said Carlos Guillen, an analyst with Wall Street Strategies. "The consumer is still holding back a bit, but we are seeing the light at the end of the tunnel."
PC shipments up, revenue down. HP reported that desktop and laptop sales slumped 26% and 10%, respectively, in its third quarter.
Still, unit shipments were up 2%, a victory in an industry that saw PC unit shipments drop 5% in the second quarter of 2009, according to a report by tech researcher Gartner. The Gartner study showed that HP grew faster than its U.S. rivals, thanks to "very aggressive" netbook pricing. With consumers increasingly opting for the low-cost, bare-bones portable computers, companies like HP are seeing growing unit demand, but only for their least-expensive PCs.
Shipments of notebook units, which account for 57% of PC sales and includes the netbook segment, rose 19%. Shipments of desktop units fell 13%. PC sales, of which HP maintains a 19.6% global market share, account for more than a third of the company's revenue.
Gartner said HP's PC market share grew 1.5 percentage points year-over-year, a statistic that surprised HP's management. Hurd said the larger-than-expected share gains suggest the rest of the PC market is actually weaker than the company expected.
"When we think the market is strengthening, we get a bit muted when the share gains are bigger than expected," said Hurd. "The share gains surprised us a little, especially based on the way we've done pricing -- we did not do anything intentional as far as aggressive pricing goes."
"From a pricing perspective, we're trying to be steady," Hurd added. "We're encouraged by the stability we see in the market, but we're not yet confident enough to call it a 'turn.'"
Guillen agreed that HP's market share gains are a sign of weak competition.
"Dell (DELL, Fortune 500) isn't doing a great job competing with HP, so [Dell] is trying out lower prices," he said. "HP doesn't have to worry too much about pricing because of the quality of its PCs."
Beating the Street. For its fiscal third quarter, ended July 31, HP reported a 19% drop in net income to $1.6 billion, or 67 cents per share. Results included a charge of 24 cents per share for ongoing restructuring charges, including previously announced job cuts.
Without the charge, HP said it earned 91 cents per share. Analysts polled by Thomson Reuters, who typically exclude one-time items from their estimates, forecasted earnings of 90 cents per share.
Sales fell 2% to $27.5 billion, topping analysts' forecasts of $27.3 billion. Revenue dropped because of a stronger dollar compared with a year earlier, said HP. Without currency fluctuations, the company said its sales would have risen 4%.
Looking forward, HP said it expects to earn $1.12 per share after taxes in the current quarter, beating analysts' estimates of $1.07, according to a Thomson Reuters survey.
The company also said it expects to meet the mid-point of its previous guidance for the full year. In May, HP forecast a profit in the range of $3.76 to $3.88 a share on a 4% to 5% drop in revenue.
Shares of HP (HPQ, Fortune 500) were down about 2% after hours.
Hardware slumps, services shine. HP makes about a quarter of its revenue from its imaging division, which sells printers and printer toner and cartridges. Consumer printer sales were down 16%. Printer supplies sales were slightly better than printer sales, falling 13% in the quarter.
HP's server and storage business took a 23% tumble in sales as businesses migrated to cheaper solutions like off-site cloud computing.
But HP also offers many of those less expensive solutions as part of its services business, which got a 93% sales boost last quarter. HP, alongside rivals IBM (IBM, Fortune 500) and Oracle (ORCL, Fortune 500), is increasingly growing in the tech services market as customers migrate away from expensive on-site hardware.
Trimming the fat. HP said it has benefited from its cost-cutting efforts as well as the ongoing successful integration of tech services firm EDS, which HP acquired for $14 billion in May 2008.
During the company's last quarterly financial report this past May, HP announced 6,400 more job cuts, on top of more than 24,000 layoffs already made as part of the EDS integration.

Features

These Fortune 100 employers have at least 350 openings each. What are they looking for in a new hire? More

It would be the world's second-biggest economy. See how big companies' sales stack up against GDP over the past decade. More