Latinos flock to New Orleans
One of the more surprising demographic changes to New Orleans was the influx of Latino workers who are rebuilding the city.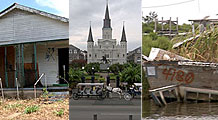 Jobs. Tourists. Housing. Crime. What the numbers say about the area and its recovery four years after Katrina's devastation.
More
NEW ORLEANS (CNNMoney.com) -- For the first time since it was a Spanish colony some 200 years ago, New Orleans is getting revitalized by Spanish speakers.
One of the more dramatic and immediate impacts of Hurricane Katrina has been the influx of thousands of new Latinos who have moved to the city to detoxify, renovate and rebuild storm damaged roads, flood walls, businesses and homes.
Following a mini-boom in Latinos has been a growing number of Latino-owned businesses, especially in the retail and service sectors.
Two Mexican eateries, Taqueria Guerrero and El Rinconcito, now sandwich a longtime New Orleans Italian ice cream shop, Angelo Brocato's, in MidCity. A few blocks away, a Latino-owned beauty parlor recently opened.
Before Hurricane Katrina, New Orleans' Latino population hovered around 3%. Officially, it's now around 4.5%, according to a 2008 census survey.
That number is sure to grow. Nearly half of all New Orleans area construction workers are Latino, according to a 2006 population study by Tulane University and the University of California at Berkeley. And the number of Hispanic children registered in the Orleans Parish public school system reported nearly doubled, going from 3% up to 5.6%.
The nonprofit Puentes New Orleans was founded two years ago to serve the new growing Latino population, said director Lucas Diaz. The group helps Latino families climb up the economic ladder, offering classes on buying homes and public leadership.
"It wasn't possible before the storm," Diaz said. "There's just so many more people. And there so many more businesses that are just more visible, which is a shift in that regard."
The Latino population boom presented a big business opportunity for New Orleans broadcast guru Ernesto Schweikert.
Schweikert, 55, was born in Guatemala but has lived in New Orleans for nearly 40 years. He started the city's first Spanish radio station in 1991. He also was looking to start the city's first Spanish television affiliate.
After the storm, he bought a troubled station, and now he runs Telemundo affiliate KGLA with local news programming. The timing couldn't have been better.
"The TV station came in to fill a big empty space in the Spanish community," said Schweikert.
Schweikert says that since the storm, his stations have been seeing triple the number of Latino-owned businesses seeking advertising time as they did before the storm.
"New Orleans has one of the oldest Hispanic communities in the country," Schweikert said. "Hispanics were the ones who rebuilt the French Quarter, now it's up to the Latino community to rebuild New Orleans."

Features

These Fortune 100 employers have at least 350 openings each. What are they looking for in a new hire? More

It would be the world's second-biggest economy. See how big companies' sales stack up against GDP over the past decade. More