New Orleans economy: Recovery, interrupted
Four years after Katrina washed away its economy, the city is weathering the recession better than many cities. But a lot of businesses are still struggling.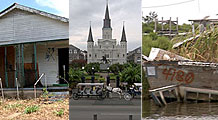 Jobs. Tourists. Housing. Crime. What the numbers say about the area and its recovery four years after Katrina's devastation.
More
NEW ORLEANS (CNNMoney.com) -- In a century-old building at 220 Camp St. bustle a bunch of new-fangled companies -- the kind once considered as likely to call New Orleans home as the Saints winning the Super Bowl.
Since April 2007, the building's fifth floor has housed the Receivables Exchange, an online financial firm that pairs small- and medium-sized businesses with financing. It employs 55 people.
One floor down is Free Flow Power. The green energy firm, based in Massachusetts, plans to sink hundreds of thousands of fan-like turbines deep into the Mississippi River to create hydropower. Its goal is to employ 1,200 Louisianans.
Welcome to Entrepreneur's Row, one of a handful of new economic development "hubs" sprinkled throughout the Crescent City. City leaders hope the business networks will pave the way for a new type of economic recovery.
"There is both a recovery and a reinvention going on," said real estate developer Sean Cummings, 44, who owns Entrepreneur's Row and invests in some of its companies. "It's not good enough to talk about heavy cream sauces, paddle wheel boats and beignet donuts."
One person in the middle of the effort to get the economy back on track is Mayor Ray Nagin.
Nagin, 53, has earned more criticism than wrinkles over his nearly eight-year tenure, which ends next May. The term-limited mayor joked during a recent speech to a group of business people that he had "done had enough. I'm ready to go. Some of y'all are sick of me, and I'm definitely sick of some of y'all."
In the meantime, Nagin is quick to tout the city's bright spots. Low unemployment. No major drop in housing prices. Drop in violent crime.
But Nagin also acknowledges that his economic optimism can be a "tough sell" to small business owners who continue to struggle.
"I remind them that the average recovery takes 10 to 15 years. It's something they really don't want to hear, but it's the reality of the recovery," Nagin said.
The two New Orleans
Four years ago, Katrina punched holes in flood walls and pushed Lake Pontchartrain into homes, stores and the lives of thousands of people.
Today the aftermath has had a peculiar impact on the city's economy.
Construction is booming. There's a budding tech and film industry. Yet, at the same time, many mainstay small businesses once woven into the fabric of everyday New Orleans life are struggling to stay afloat.
Since oil and gas fled to Texas in the 1970s, and tourism emerged as the city's main bread-and-butter industry, the New Orleans economy has never really been considered vibrant or diverse.
Despite a sprinkling of mining and port jobs, the city has relied on minimum-wage service sector employment. An under-funded and poorly-run school system had provided scant help in preparing future workers.
But the hurricane changed everything. Some companies fled. Others cut back and slimmed down. Some changed courses entirely.
Take 52-year-old Wenji Zhong, who closed the family furniture company after the storm flooded its inventory. This summer, he opened a tidy sushi restaurant in the still-ravaged neighborhood of Gentilly on a thoroughfare near universities. Good Time Sushi is a first for the area.
The can-do, recovery spirit has fueled a new entrepreneurial renaissance of sorts in New Orleans. Dozens of young adults who grew up here or who had ties to the city are returning in the name of recovery.
Kurt Buchert was sitting at a Dallas Starbucks trying to think of some way to get back home to New Orleans. His employer, The Hartford, had transferred him to Texas after the storm.
Over a double shot of espresso with heavy cream, Buchert remembered a spray foam insulation he had used -- and liked -- on a house he had renovated in New Orleans. A month later, he opened Greenbean Insulation and was crawling under houses and inside attics, sealing up old homes throughout the city.
"I wanted to work here and have my own business," said Buckert, 32, whose company started making a profit within the first five months. "This way, I then was also going to help with rebuilding the city."
Another New Orleans native, Jon Guidroz, left a San Francisco finance firm to work for the Free Flow Power, after his mother mailed him a story about the green energy company's plans to harness energy from the Mississippi River.
"It's a different environment than existed down here before the storm," said Guidroz, 27.
Back in business but still struggling
Economists say recovery stimulus funding has allowed New Orleans to weather the national recession better than most other metropolitan areas.
At least $50 billion has been sent to state agencies following Katrina. The money has gone to everything from housing residents in trailers and other disaster responses to erecting schools, parks and libraries, according to the Louisiana Recovery Authority. Neon-vested construction workers are digging up parts of the city and recovery dollars are finally being flexed to rebuild levies, pipes, roads, streetlights, schools and, hopefully, hospitals.
Statewide unemployment has remained two to three percentage points below the national average. Home sales have slowed, but not collapsed as they have elsewhere.
However, for many small businesses, recovery remains a long way off.
Restaurants, bookstores and funeral homes are still waiting for residents who have yet to return to middle-class neighborhoods. Green kudzu and mold have taken over many homes, and it's easy to spot the fading red Xs and numbers that marked the search for survivors in the weeks after Katrina hit.
Vera Warren-Williams owns the Community Book Center, one of a half dozen businesses on a stretch of historic Bayou Road in the Mid-City area. The first four to open were started by women who call themselves the "Belles of Bayou Road."
Warren-Williams rebuilt her business after replacing the book shelves, floors, walls and wiring after being deluged by two feet of water. She has been back in business, officially and without much insurance help, for more than two years.
"I don't see how the city could be faring better in a recession," said Warren-Williams, 49, a former social worker and teacher.
But few of her old customers are back, and she's beginning to doubt they will all return. Even though she's diversified her stock to include framed pictures of President Obama, artwork and T-shirts, she's worried about the survival of her store.
The recession has also hurt tourism throughout the city, as tourists and convention-goers have trimmed back travel plans. The number of hotel reservations tied to conventions and meetings are down by 15% compared to 2008 bookings, according to the New Orleans Convention and Visitors Bureau. That hurts restaurants, hotels and tourist shops citywide.
For each of the past five years, glass artist Mitchell Gaudet has produced some 500 glass fleur-de-lis -- a symbol of the city -- that city tourism officials gave as gifts to VIP tourists who especially liked the green, blue and purple ones. This year, he sold 30 to the tourism bureau. The lack of work prompted him to shut down one of his furnaces for the summer.
"New Orleans could always be doing better," Gaudet said. "But that's why we live in New Orleans, we love that hopelessness about it."

Features

These Fortune 100 employers have at least 350 openings each. What are they looking for in a new hire? More

It would be the world's second-biggest economy. See how big companies' sales stack up against GDP over the past decade. More