Message to entrepreneurs: Get tough
You need a thick skin to make it in business.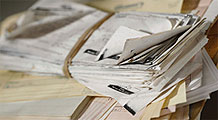 From sloppy accounting to poor hiring, here are the business-killing traps that every entrepreneur must avoid.
(Fortune Small Business) -- Years ago i joined my first business advisory group. I was in my late twenties and had already experienced some success running a picture framing company here in Chicago. At the first meeting I told my story to the other members. One of them, a guy in his sixties, looked across the table and asked me this simple question: "Have you toughened up yet?"
Twenty-five years later I know exactly what he meant. Entrepreneurs tend to start out young and naive, but sooner or later we all toughen up to survive. Sometimes you need to do difficult things. Sometimes you have to take a hard line. So ask yourself: Have I toughened up?
Employees. If you go into management, you must be willing and able to hold people responsible for their work. This can include having uncomfortable conversations about poor performance, personal hygiene and inappropriate relationships.
It also includes "unhiring" the unwilling or unable. I had an employee in her late fifties who had worked for me for more than 10 years. We eliminated her department and tried to retrain her in two others. But after a year of counseling and moving her around, my manager concluded that there was no hope for success. We fired her together.
She cried, she screamed, she prayed. My manager was in his late twenties, and this was a defining moment for him. I felt awful for her and proud of him.
Vendors. I once ordered a set of professionally printed invoices. The result was anything but. I called the vendor and complained that his printing was crooked and sloppy. His answer? "These fall within the standards in the industry."
I was shocked because the invoices were really bad and this was a well-regarded printing company. I told him, "That's laughable. The invoices will be on my dock. You can pick them up whenever you like." (Luckily I hadn't paid for them yet.)
The vendor reprinted the forms, and there was no comparison with the first set. That's how I learned that companies don't always do the right thing unless you push back.
Customers. I'm proud to say that in more than 30 years of business I've had to take a hard line with only three customers.
One guy had us reframe a print after movers shattered the glass. When he picked up the finished job, he complained that there were small scratches on the print and asked me to replace it. I explained that the scratches were obviously due to the broken glass, and he said I should have noted it on the invoice. I told him he should take up the matter with the moving company. He responded by saying he'd already tried that, and then he threatened to take us to small-claims court.
I said: "I'm sorry you feel that way. I guess I'll see you in court." Predictably, I never heard from him again.
Receivables. Collecting money is one area where you will definitely get eaten alive if you don't take a stand. And sometimes that means legal action.
I know a woman who published a retail guide that ran ads for local businesses in the Midwest. Once we were talking and she complained about a retail customer who owed her money. After 90 days she went to the woman's store to get paid. The customer brushed her off, saying, "I have more important things to do than deal with you."
I suggested she refer the matter to an attorney, and here's what she told me: "Oh, I can't do that. I'm a good Catholic girl!" Several months later she was out of business.
The lesson? Successful entrepreneurship isn't about being a jerk, a screamer or a bully. It's about standing up for yourself and your company. The meek might inherit the earth, but they will struggle in business.
Jay Goltz employs 110 people at Artists Frame Service, Chicago Art Source and Jayson Home & Garden, all based in Chicago. He is the author of The Street-Smart Entrepreneur (Addicus Books).

To write a note to the editor about this article,
click here
.