Where's my stimulus?
As the government throws billions at bailouts, Main Street is feeling left out.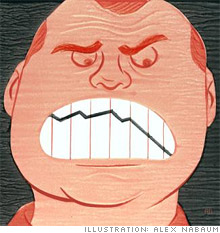 Photos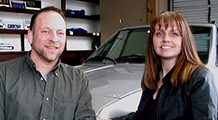 Map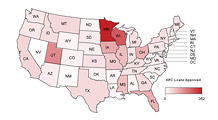 The government's America's Recovery Capital (ARC) loan program aims to help struggling small businesses. Here's a look at which banks are making the loans.
View Map
Bailout tracker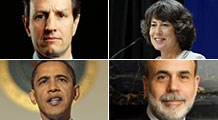 The government is engaged in a far-reaching - and expensive - effort to rescue the economy. Here's how you can keep tabs on the bailouts.
More
(Fortune Small Business) -- During her four years as an entrepreneur, Trina Nelson has seen plenty of ups and downs. But nothing prepared her for the crisis last December, when the American economy lay in tatters and her Dallas-based catering business nearly collapsed.
"The phones stopped ringing," says the founder of Par-T-Trayz Catering (motto: "From sushi to soul food").
Unfortunately, Nelson, 38, has had a history of borrowing woes. In 2007 she needed a loan to stay afloat but was turned down by four banks because she didn't have an established line of credit. (Like many startup founders, Nelson had used personal credit cards to fund her business; now her credit rating is "shot.") Lenders said the amount she was seeking -- $15,000 -- was too small.
"They told me I wasn't asking for enough money," she recalls. "Why would I ask for more money than I needed?"
For the past nine months, Nelson has struggled to keep her business alive. Fortunately, her phones have started ringing again. But that's revealed another problem. "I'm turning down big business because I don't have the staff to execute the orders," she says. If Nelson had the capital, she would hire 10 full-time employees and expand to offer mail-order and personal-chef services.
"The government is giving billions to companies that make billions, and they're still going out of business," she complains. "Why don't they give some of that money to small businesses?"
It's a fair question. Much of the government's estimated $1.5 trillion stimulus package is aimed at stabilizing Wall Street and salvaging what's left of Detroit. President Barack Obama has pledged a scant $15 billion to boost lending to small firms. And the money flow has been painfully slow. Two weeks after the Small Business Administration kicked off an emergency loan program in June, only 139 loans -- worth $4.6 million -- had been approved.
So it should come as no surprise that 75% of entrepreneurs say the government hasn't supported them enough, and an equal percentage believe Washington is actually "squeezing" them, according to a poll by Intuit Payroll, an online accounting service based in Mountain View, Calif.
Small business owners may have better luck if they seek loans from community and regional banks rather than large institutions, suggests Bob Seiwert, senior vice president for commercial lending at the American Bankers Association, based in Washington, D.C.
"Small businesses that go to small banks have higher loan-approval ratings," he says.
Seiwert also suggests that entrepreneurs treat their bankers as they would a lawyer or an accountant -- as part of their company's financial team, consulting them on all major financial decisions. Basically, what every entrepreneur needs is a George Bailey, the caring community banker played by James Stewart in It's a Wonderful Life.
At least that's the way it should be. Down in Immokalee, Fla., David Lightner owns a contracting business and a construction firm whose combined revenues totaled $4.7 million last year. Lightner, 50, has been banking with the Community Bank of Florida since 1991. He's repaid dozens of loans over the years but was turned down in February after requesting $200,000 to meet payroll and other financial obligations. He even offered heavy equipment worth $2.5 million as collateral.
"They said, 'No, because you showed a loss in 2008,'" says Lightner. "Well, no duh. It doesn't take a genius to figure that out. The bank took a loss in '08 too. Everyone did."
Lightner argues that tightfisted banks are only hurting themselves. "When I have to lay off people, that means they can't make their home mortgage payments, which are with the bank," he says. "So now it's not getting any money from them."
Like many other small business owners, Lightner thinks a federal stimulus package for Main Street would empower entrepreneurs and give a much-needed boost to the economy. "If the government gave me money, I'd go out tomorrow and buy a new car," he says. "I'd buy a new truck, so the car companies would make some money. And I could keep people working."
And what's wrong with that?

To write a note to the editor about this article,
click here
.